Have you heard the expressions of sensory-friendly swim times and autism-friendly swimming lessons? Moreover, are you confused by them? There are a lot of phrases used to describe adaptive swim lessons for autism. In addition, there are different words used to sensory-friendly swim times. In general, sensory-friendly swimming and autism swimming lessons are similar. Both of these terms describe making accommodations for children with autism or other disabilities. However, swim times refer to changes made at the pool itself. On the other hand, lessons refer to changes in the type of lesson.

Resources for autism swimming lessons.
We were introduced to "Autism Swim" by a small regional autism association in Miramichi, New Brunswick, Canada, called the Autism Resources Miramichi. They completed the training, fundraising and now have community support swimming lessons for autism. We applaud their efforts to promote autism-friendly swimming lessons.
The organization that originated Autism Swim is in Australia. Most noteworthy, this is a phenomenal program and we encourage everyone to learn more about this organization. Autism Swim provides international autism and special needs swimming teacher courses and they train instructors. Additionally, this organization has strived to provide services for more disabilities than autism. In addition, not only do they teach about water safety but also they cover topics such as drowning and wandering too. Finally, their website also has educational resources for parents and swim programs themselves.
Additionally, parents and caregivers are curious about autism swimming and the effectiveness of it as a form of therapy. Over the course of my past career in healthcare, education and community settings, including a summer camp, swimming was often part of therapy treatment. Not only does swimming promote the development of play skills, but it also encourages sensory-motor development. Most importantly, the children participating have fun! Swimming is an incredible avenue to promote and develop many skills in children. In short, the playfulness and fun factors over this activity should not be overlooked either.
What is a sensory-friendly pool?
In can be particularly challenging to find lessons for a child with autism. For example, if you cannot find autism-specific swimming lessons you may look for autism-friendly swimming times at an indoor or outdoor pool. Some pools have a sensory swim hour or sometimes otherwise known as sensory-friendly swim time. Specifically, sensory-friendly pools usually offer specific times on specific dates where they make changes to the sensory experience at the pool.
Sensory sensitivity that accompanies autism can make swimming a challenge. In fact, many people experience sensory sensitivity. Furthermore, many people, including people of all ages, and not just those with autism have a real challenge with their senses. Going swimming at an indoor or outdoor pool can be an overwhelming sensory experience. For instance, there are changes in temperature and sensations upon entering the water. Moreover, public pools are generally busy, noisy, and bright. There can be bothersome fluorescent lights at indoor pools. Noise can also be an issue stemming from things such as pool equipment and lifeguards blowing whistles. Therefore, it is easy for anyone to experience sensory overload in this type of environment. It is important to note that you have more than five senses and all eight senses are involved while swimming!
To help people manage, sensory-friendly swim times are increasing in popularity. For example, you might find a sensory-friendly pool at your local indoor or outdoor neighborhood pool. Further, theme parks, water parks, and tourist attractions may also include autism-friendly swim times as part of their attraction.
Here are ideas and explanations that will help make swimming friendly. Parents and caregivers, share this blog post with your local swimming pools to help them adopt these strategies!
How to offer autism or sensory-friendly swim time.
Turn off background music
No announcements
Stop noisy-equipment
Offer a quiet room
Limit the number of patrons
Turn of waves or noisy toys
Provide extra staff
No hair-dryer signs (the noise is truly bothersome)
Offer a free caregiver pass
Staff use whistles only in cased of emergency
Set specific "friendly" hours
Let people know exactly what to expect
Share details on your facilities website, and social media platforms
Add sensory-friendly or autism-friendly adult swim lane times
Furthermore, parents, caregivers, swim instructors and pools often ask what products will help children with autism or other disabilities enjoy swimming. Therefore, here are seven products to help.
9 products to help a sensory-friendly swim.
Ear bands or earplugs.
Swim cap
Swim friendly life jackets.
Swimming goggles or masks
Nose clips
Full bodysuits
Swim boards
Handheld paddles
Flippers
Why these products are helpful?
Ear
Water in the ears potentially resulting in ear infections and noise sensitivity is a particular challenge for many children, both with autism and other disabilities. This issue can be alleviated with wax earplugs which tend to stay in the ears the best. However, some children do not tolerate earplugs. If this is the case, ear bands can be an alternative solution which is a swimming headband that covers the ears. Some swimming headbands come with earplugs too. Additionally, the added pressure of the headband is calming on the sensory nervous system. However, be extra cautious if your child does not hear as well with them. This may increase the safety risk while your child is swimming.
Head
Swimming caps are now made out of many different types of materials. Like headbands, the compression has a calming effect on the sensory nervous system too. Some are designed for long or curly hair.
Hammer Head swim caps are specially designed caps that are sensory-friendly. They offer head protection from injury and are less likely to pull on hair.
Body
In addition, there are life jackets that offer more support for a child's head.
There are more swim-friendly life jackets that let arms and legs move about. Remember, safety first. A life jacket is not a substitute for close adult supervision and may be needed in addition to close adult supervision. Likewise, choose what best meets all your child's needs.
Swimsuits come in all shapes and styles. For example, full bodysuits or swimsuits that are long-sleeve, shorts, or full body are a good choice. Rashguard sets are also an option. First, they offer compression, and similar to the examples cited above, this helps to calm the sensory nervous system. Second, they help regulate the changes in body temperature while swimming. Wet suits offer even more compression.
Eyes
The water stings eyes and goggles help. Moreover, choose goggles with wider bands to be more comfortable. Some children may prefer a mask.
For googles that are perfect for a sensory-friendly swim, check out Frogglez.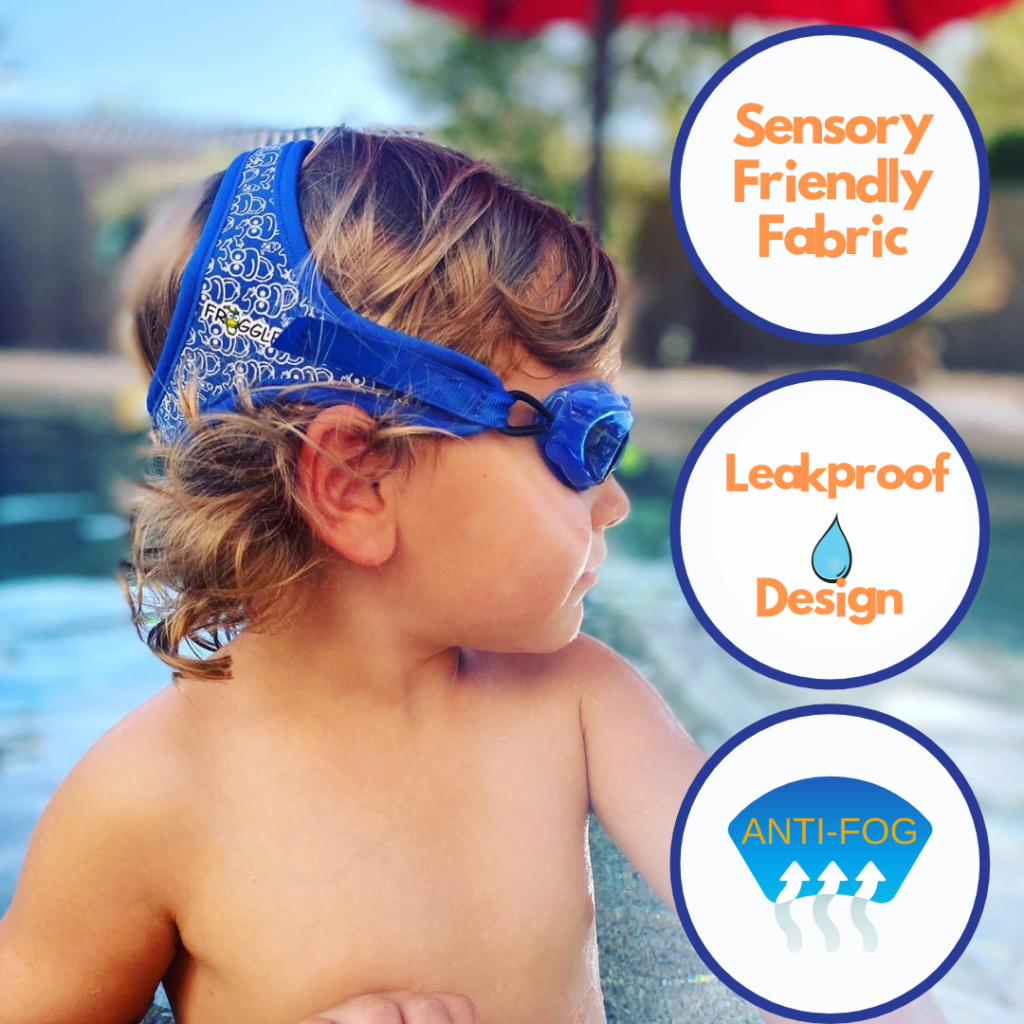 Sensory Friendly Solutions is not paid to endorse products. When we mention them, it is because we have personally reviewed and tried them and feel that they are worthy of sharing because they are sensory-friendly.
Nose
Nose plugs are often a big help and often come together with earplugs.
Hands
Floatation boards. Flotation boards give hands something to hold into! Furthermore, they provide resistance when swimming. Heavy muscle work has a positive effect on the sensory -nervous system too as it helps us regulate our nervous system.
Hand-held paddles. Like floatation boards, they provide even more resistance while swimming. In conclusion, that heavy muscle work is calming and organizing for the nervous system.
Feet
Flippers. Flippers are great fun for children. Similar to resistance paddles they offer resistance too, and that calms!
Autism Spectrum Disorder (ASD) and drowning.
While sharing information about swimming, children and autistic children, in particular, we also wanted to address a serious topic. There are lots of concerning statistics and figures out there about autism and the (increased) risk of drowning. Consequently, autism and drowning are a concern for many parents, caregivers, and teachers. Here are some resources to understand and promote water safety for all children:
Safe swimming (Canada)
Water safety (USA)
Drowning (World Health Organization)
Keep swimming safe, but make swimming fun!
Frogglez Swim Goggles and Hammer Head Swim Caps are all Sensory Friendly Solutions' Favourite Things. Sensory Friendly Solutions' Favourite Things recognizes products that help people manage sensory sensitivity or reduce sensory overload.
Ready to learn more?
Discover how other locations and events become sensory-friendly:
Do you offer swimming as part of a camp program? Learn more about sensory-friendly camps.
Sign up for the Sensory Friendly Solutions Newsletter.
Feel empowered to make sensory-friendly changes and understand the spectrum of different sensory experiences.
Unsubscribe at any time.
Christel Seeberger has worked in health care for 30 years, including helping people with sensory sensitivity who experience sensory overload. Christel has a hearing disability and experiences sensory sensitivity and sensory overload herself. She founded Sensory Friendly Solutions in 2016 to make the world more sensory-friendly, accessible and inclusive.