Have you seen sensory-friendly movies advertised?
Maybe you wonder:
What do sensory-friendly films mean?
What is an autism-friendly screening?
What is a relaxed screening?
What do sensory screenings mean then?
What is a sensory-sensitive movie?
What if they are all the same thing?
What do sensory-friendly movies mean?
A sensory-friendly movie changes your sensory experience. This happens through what you hear. It also happens through what you see. Although the movie itself does not change. That is to say, your experience in the movie theatre changes.
Importantly, know that not every movie theatre offers the same experience. However, you can likely expect a few similar changes. The house lights are on. The soundtrack volume is turned down.
Similarly, sensory-friendly movies, sensory-friendly films, autism-friendly movies, sensory-sensitive movies, and sensory screenings do all mean the same thing.
What else to expect.
More often than not, sensory-friendly movies are for children. Consequently, there will be more children and families in the audience. Importantly, that means increased noise from the audience. As well as movement in the seats and throughout the theatre. In some instances, the movie theatre will allow people to bring their own food. As a result, it can create additional noise of crinkling packaging.
Some theatres may loan out earmuffs. Whereas others may loan out weighted lap pads. These are examples of sensory tools. Sensory tools help patrons enjoy the movie.

Who wants to see sensory-friendly movies?
Many people take advantage of sensory-friendly movies. Many people enjoy them. This includes both children and adults. Specifically, the person might have a hidden disability. Or an underlying disability, or difference. Accordingly, the person may experience sensory sensitivity. On the other hand, the person may enjoy the adjusted ambiance.
First, having a disability does not mean you prefer these types of movies. However, having a hidden disability may mean you do prefer sensory-friendly movies. For instances, people with anxiety, autism, hearing loss, concussion, or PTSD often have sensory sensitivity or experience sensory overload. Furthermore, a loud movie soundtrack is bothersome. Moreover, dark theatres with a bright screen are distressing.
In contrast, some people may not be bothered at all as many people enjoy a sensory-rich experience at the movies.
What makes movies more accessible?
There are many small changes that make movies more accessible. For instance, you may notice spots reserved. These are for people who use wheelchairs. Or, there could be special seats saved. They are called companion seats. They are are reserved for the person(s) attending the show with a person with a disability. Finally, you might see accommodations made for a guide dog.
Changes to audio
What is an audio DESC?
DESC stands for audio description. It can also be called video description. In addition, described video. Audio description helps people with vision loss, low vision, or people who are blind. In these cases, the patron wears a special headset. The headset let them first directly hear the soundtrack. In addition, a narrator describes what happens onscreen. Typically, this happens during pauses. But it can happen over dialogue if needed.
Besides, you have likely experienced an audio description at some point!
Have you gone to a museum? Maybe to an art exhibit? Or a travelling exhibition? Perhaps you wore a headset there. It likely offered a personal audio tour. This would replace an actual tour guide. As a result, you listened to information about the exhibit. That means you experienced audio description.
Another example of an audio description might be at a sporting event. For instance, a sportscaster describes the play. This is a form of audio description.
In conclusion, an audio description is not just used in the movies!
Closed Captions
Sometimes movies are screened at special showings. A special showing may be held to include closed captions. They may be shown to everyone in attendance. In this case, they are typically displayed at the bottom of the movie screen. However, closed captioning is not just for people who have hearing loss. Nor is it just for people who are hard of hearing or deaf. For instance, some people with learning disabilities prefer to read the dialogue. Lastly, subtitles also help someone whose first language is different.
Additionally, some movie theatres have assistive listening eyeglasses. These special glasses show closed captions. The closed captions are projected on the lens. Thus, the person can both watch the movie and see the closed caption at the same time.
As well, movie theatres have also adopted handheld device technology. It lets users read the closed caption on a small screen.
Finally, as we have learned, closed captions can be enjoyed by anyone.
Directed sound
In another example, people wear sound-isolating headphones. Likewise, they might wear noise-cancelling headphones. Specifically, they have the audio soundtrack going directly to their headphones.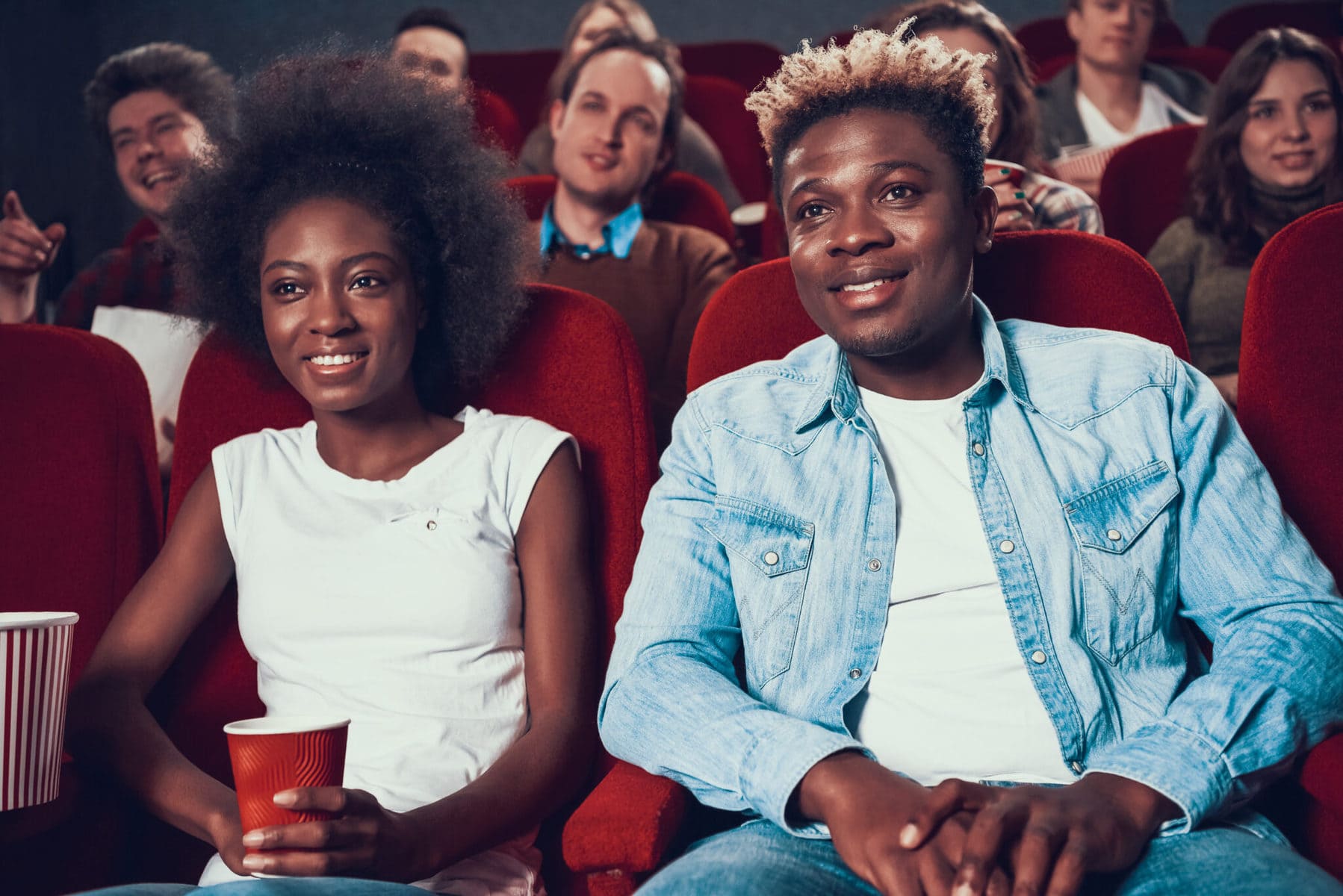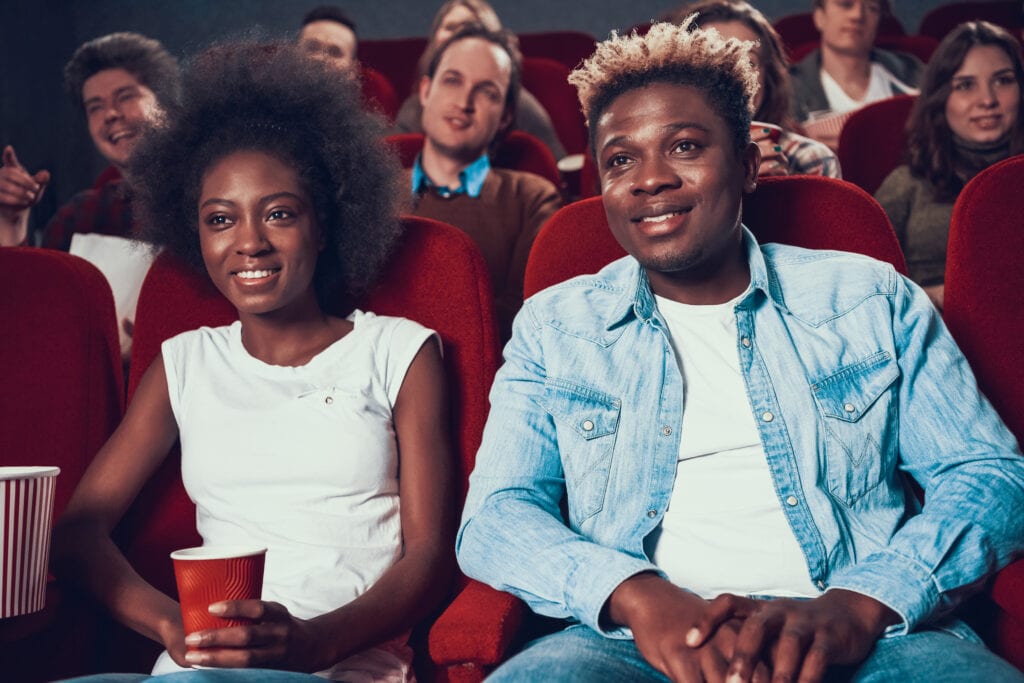 Key points to remember about sensory-friendly movies
Not every sensory-friendly movie is the same experience.
The movie remains the same.
Changes usually occur in how you see it.
Changes often occur in how you listen to it.
Many children and families are likely in the audience.
Understand that more sensory-friendly movies are for children.
The audience may be noisier.
The volume is not as loud.
People may be allowed to bring their own snacks.
Expect children to move around in their seats.
Expect people to move around in the theatre.
Finally, movie theatres may offer additional help such as:

Wheelchair seating
Closed caption devices
Closed caption movie screening
Audio description
Noise-cancelling headphones with direct sound
Earmuffs
Movie theatres that offer sensory-friendly movies
As examples, here is a list of movie theatres that offer sensory-friendly screenings.
It is important to note that they do not offer it for every movie. Additionally, a sensory-friendly movie at one cinema may not be the same at another. Lastly, remember that children's movies are more likely to be sensory-friendly.
Cinemark
Cineplex
Cineworld
Empire Cinemas
Landmark
Odeon
Picturehouse
Regal
Showcase
Vue
What else are sensory-friendly movies called?
To sum up, there are many words that describe sensory-friendly movies!
A
• Assisted cinema
• Assisted films
• Assisted movie theatres
• Assisted movies
• Assisted screening
• ATF means Autism Friendly
• Autism-friendly cinema
• Autism-friendly films
• Autism-friendly movie theatres
• Autism-friendly movies
• Autism-friendly screening (AFS)
• Family-friendly cinema
• Family-friendly films
• Family-friendly movie theatres
• Family-friendly movies
• Family-friendly screening
K
• Kid-friendly cinema
• Kid-friendly films
• Kid-friendly movie theatres
• Kid-friendly movies
• Kid-friendly screening
R
• Relaxed cinema
• Relaxed films
• Relaxed movie theatres
• Relaxed movies
• Relaxed screening
S
• Sensory cinema
• Sensory films
• Sensory movie theatres
• Sensory movies
• Sensory screening
• Sensory-friendly cinema
• Sensory-friendly films
• Sensory-friendly movie theatres
• Sensory-friendly movies
• Sensory-friendly screening
• Sensory-Friendly Special Needs cinema
• Sensory-Friendly Special Needs films
• Sensory-Friendly Special Needs movie theatres
• Sensory-Friendly Special Needs movies
• Sensory-Friendly Special Needs screening
• Sensory-relaxed cinema
• Sensory-relaxed films
• Sensory-relaxed movie theatres
• Sensory-relaxed movies
• Sensory-relaxed screening
• Sensory-sensitive cinema
• Sensory-sensitive films
• Sensory-sensitive movie theatres
• Sensory-sensitive movies
• Sensory-sensitive screening
• Special Needs cinema
• Special Needs films
• Special Needs movie theatres
• Special Needs movies
• Special Needs screening
Finally, it is important to know that sensory-friendly movies and relaxed performances are two different things.  While events that are sensory-friendly do have things in common, aspects of the experience are not identical. Relaxed performances are live shows and not movies. For more information on sensory theatres, check out research exploring the impact of sensory-friendly programs on children with greater sensitivities.
If you like movies and documentaries in general, are you interested in watching a mini-documentary about being sensory-friendly? Then, check out, "Too Busy. Too Noisy. Too Bright."
Being sensory-friendly is easier with our newsletter.
Get timely sensory-friendly tips and strategies by email to understand sensory challenges. Unsubscribe at any time.
Christel Seeberger worked in healthcare for more than 25 years helping people with sensory sensitivity who experience sensory overload.  Christel has sensory sensitivity and experiences sensory overload herself; she has hearing loss and wears hearing aids.  She founded Sensory Friendly Solutions in 2016 to help people, businesses and organizations discover sensory-friendly solutions for daily life.