Sensory-friendly birthday parties are the answer
Birthday parties are fun and an endearing part of childhood. However, a birthday party can be overwhelming for any child with sensory sensitivity. In addition, for children with autism, anxiety, and sensory overload, birthday parties often cause meltdowns.
For the adults planning a birthday party, it can also be overwhelming to figure out how to turn something that is sensory-rich, into something that your child with sensory sensitivity will enjoy.
The solution?
Throw a sensory-friendly birthday party. It is more than likely other children (and their parents alike) will enjoy a sensory-friendly birthday party too!
You may wonder what is a sensory-friendly party? Here are 10 tips for an easy and fun sensory-friendly birthday party.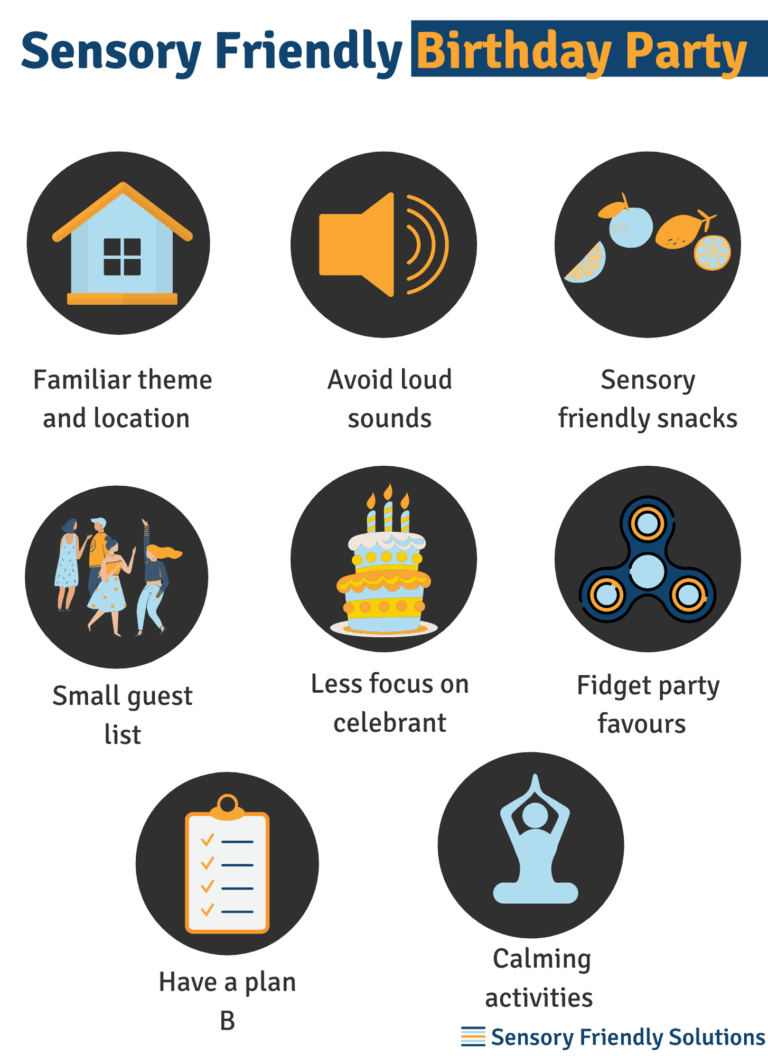 1. Choose your party theme wisely
When it comes to birthday parties, pick a theme that your child likes and is familiar with. There will be many new experiences at the party so try to keep the theme familiar to your child, and something that they already love. You might be tired of dinosaurs, super-heroes, or princesses, but keeping things the same helps to reduce stress and anxiety for your child.
2. Have a really low-key and small guestlist
Think of how many people your child can handle. Keep in mind that it's best to have a small, low-key party and a (really) short guest list. So, try to choose your guests wisely! Who will be understanding if the birthday child needs to take a break and relax in their bedroom for a while? Invite those kinds of guests! Think about having a birthday family dinner and a birthday party with friends as separate events if needed to keep the guest list small and manageable. Start a new tradition by doing so, and make everyone feel special.
3. Pick a familiar location instead of a new place
When it comes to choosing a location, keep your birthday party sensory-friendly by going with a familiar place. Ultimately, that may involve hosting the birthday party at your home every year. All the more reason to keep the guest list (and clean up thereafter) small. If you are going somewhere else, practice first! Avoid hosting a birthday party at a place that your child has never visited before. Try to choose a place that offers a sensory-friendly birthday party or a sensory-friendly experience.
4. Avoid loud sounds and a lot of noise
It is important to turn off the background music. Avoid handing out noisemakers. If you use music in party games, then alternate with activities that are quiet or silent. For example, play musical chairs followed by a quiet activity at the craft table. Choose balloons that don't easily pop. If possible, you may need to skip singing the happy birthday song too. That's OK! Create a new way of the group showing their appreciation for the birthday celebrant. Have guests each make a happy birthday sign or drawing as part of a craft, that they can then each show the birthday child.
5. Snacks can be a sensory-friendly tool
Ice cream, cake, and pop are not necessarily a sensory-friendly food choice. Did you know that you can choose sensory-friendly snacks? Use fruits and vegetables to create special treats, like some of these fruit and vegetable creations. Crunchy fruits and vegetables make your mouth work to chew and swallow them. Smoothies sucked through a straw also make mouth muscles work. Making muscles move and work has a calming and organizing effect on the nervous system.
6. Offer calming birthday party activities
Keep everyone happy and entertained by having different types of activities available and planned. Activities involving muscle work that is organized and repetitive is helpful. Additionally, activities can be effective that incorprate deep breathing. Some ideas for calming birthday party activities are:
blowing bubbles
each child has to blow on a tissue to try to keep it up in the are
yoga poses
animal walks
7. Pick party favors that are also fidgets
Wisely choose party favors that double as a fidget. So instead of giving out noisemakers or candy, choose fidget toys.
8. Offer a way out
A research which tested the benefits of breaks concluded that taking multiple breaks can be an effective way to reduce disruptive behaviours. Whether you are hosting the sensory-friendly birthday party in your home or somewhere else, create a quiet zone where your child or anyone else can go to take a break and chill out. Post a "quiet zone" sign and place a comfy chair in the space, ear muffs and potentially offer some fidgets.
9. Focus less on the birthday celebrant
Your child may not be comfortable being the center of attention. So ditch the birthday song and public gift opening experience. Once again, create new traditions that work for your child and make them feel comfortable. Maybe split up the group of guests into doing activities in different rooms to keep the party feeling less busy, noisy and overwhelming.
10. Have a plan b
Every child is unique and sometimes unpredictable. Designate some trusted adults or older children as helpers. Pick someone as the re-director of fun if some guests become too boisterous and help direct attention elsewhere. Have an adult ready to help calm a busy, noisy guest who may overwhelm your child. Many children love responsibilities too! Get them to be buddies and responsible for one another. Finally, have some extra quiet games on hand to help the group settle in and settle down.
Bonus tip: parents, get ideas to create a sensory-friendly backyard.
Have a happy sensory-friendly birthday!
Being sensory-friendly is easier with our newsletter.
Get timely sensory-friendly tips and strategies by email to understand sensory challenges. Unsubscribe at any time.
Christel Seeberger worked in healthcare for more than 25 years helping people with sensory sensitivity who experience sensory overload. Christel has sensory sensitivity and experiences sensory overload herself; she has hearing loss and wears hearing aids. She founded Sensory Friendly Solutions in 2016 to help people, businesses and organizations discover sensory-friendly solutions for daily life.