Sensory Friendly 101 Training
Be empowered to start or continue your journey to accessibility and inclusion.
Why Be Sensory-Friendly 101 Trained? 
Because it's part of accessibility and inclusion.
33% Of People Experience Sensory Challenges.
Did you know that up to 33% of the population is more likely to experience sensory sensitivity or sensory overload?
Children, adults and seniors alike often find events, locations and experiences too busy, too noisy and too bright.
Include 1/3 of the population at your location or event when you become trained. 
Sensory Sensitivity and Sensory Overload are Just the Tip of the Iceberg.
Sensory sensitivity and sensory overload are just the tip of the iceberg.  
Many disabilities, disorders and differences contribute to the increasing demand for sensory-friendly experiences at locations or events.
In fact, sensory sensitivity and sensory overload aren't just experiences by disabled persons.  They can be experienced by anyone, at any time.
Be part of the solution that makes more people comfortable when you become trained.
Create Sensory-Friendly Experiences Because You Care.
Get training because you care about the 1 in every 3 people around the world who are more likely to experience sensory sensitivity or sensory overload. 
Accessibility and inclusion is for everyone
With Sensory Friendly Solutions Training you can:
Benefits of Sensory Friendly Training:
Sensory Friendly 101 Training Content
Buy this 1-hour online training for only $19.99 CAD
It is available to you 24/7
Learn what it means to be sensory-friendly
Understand sensory sensitivity and sensory overload
Discover your eight senses
Learn new vocabulary 
Get an idea of best practices to be more sensory-friendly, accessible and inclusive
Receive a Certificate of Completion after completing a short quiz
Lesson 1: About Your Senses
Understand how people experience sensory information, and how sensory overload can prevent the enjoyment of everyday experiences. Including things you may take for granted in your own workspace or environment.
Lesson 2: Your Eight Senses
Find out about your eight senses. You might think you only have five senses. But there three more that are also important to consider when creating accommodating experiences for people with sensory sensitivities or who experience sensory overload.
Lesson 3: Problems and Solutions
Discover what sensory-friendly environments can include, along with examples for a variety of industries and event types.
Lesson 4: Terminology
Learn the common terminology you can use to articulate and promote your sensory-friendly initiatives.
Lesson 5: Continue Your Sensory Friendly Journey


Get practical solutions and join the movement for accessibility and inclusion in the world.
Sensory-Friendly 101 Quiz
Test your knowledge with a quick quiz will give you a chance to review what you've learned throughout the training. This is required in order to receive the Certificate of Completion.
Becoming A Sensory-Friendly Trained Performer.
"Going through the training with Sensory Friendly Solutions empowered me to be able to offer Sensory Friendly Performances that are inclusive and accessible to more people."
-Christina Martin, Singer Songwriter
Training from Sensory Friendly Solutions took the stress away.
"Learning from Sensory Friendly Solutions took the stress away because of how much information, help, and resources were provided to be more accessible and inclusive to our clients and teams in our building."
-Abi Reinhart, Accessibility Leader, Social Enterprise Hub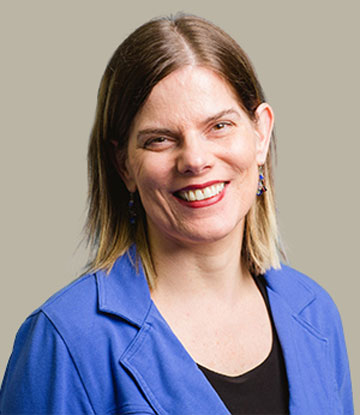 Sensory overload is overwhelming, but the solutions can be simple.
This mantra of simplicity drives solutions created by Sensory Friendly Solutions with founder and CEO, Christel Seeberger at the lead.
Working an an occupational therapist for over 25 years, Christel saw how sensory sensitivity and sensory overload caused people to feel overwhelmed, anxious and stressed in daily life.
People of all ages simply stopped living life when they could not find sensory-friendly experiences at work, in their community, or when they travelled.
With the disability of adult-onset hearing loss, Christel understands these problems personally; she also experiences sensory sensitivity and sensory overload.
Christel founded Sensory Friendly Solutions to make the world more-sensory-friendly.
Why choose Sensory Friendly Solutions?
Since 2016, Sensory Friendly Solutions has worked to achieve its mission as a B Corp™ Certified social enterprise: make the world more sensory-friendly. 
Sensory Friendly Solutions has established its thought leadership, and demonstrated its subject matter expertise with:
Founder and CEO Christel Seeberger, as an occupational therapist with over 25 years' experience and a person with a disability herself.
The world's first podcast about sensory challenges and sensory-friendly solutions, with over 5700 downloads around the globe. The podcast includes interviews with accessibility and inclusion leaders, as well as people with the lived experience of sensory challenges.
A growing newsletter that has more than 1500 subscribers interested in delivering sensory-friendly events and locations.
Free resources for people, businesses and organizations. Resources are evidence-informed and co-constructed with people with different disabilities.  Find over 135 blog posts, checklists and guides, a self-assessment tool for businesses and organizations, a short documentary and two audio conferences, one for dentistry and one for tourism, arts and culture.
Online Training on how and why to offer sensory-friendly experiences for different events and locations. Training is evidence-informed and co-constructed with people with different disabilities.
Small sensory-friendly changes have a large impact.
How long will it take me to complete this course?
While that will depend on the learner, the course content should take approximately 1 hour to complete.
Do I have to complete this training all at one sitting?
No, you can come back to the training and continue where you left off, or even go back to the beginning.
Is this a live training or online and self-paced?
Training is online and self-paced.
What is the refund policy?
Once you complete training and receive certification, if you are not happy with the training, please contact us within 14 days of purchase, let us know why are you are unhappy (we work on continuously improving our training) and you will receive a full refund within the following 14 days. Please know that training is for educationally and informational purposes only.
Will I get a certificate of completion?
Yes! You will get an electronic certificate you can print and share at the end of the training, once you complete and pass the quiz.
What do I do if I have more questions?
Please contact us if you have any questions or need assistance.
Sensory Friendly Solutions

is your key to accessibility and inclusion.
Sensory Friendly Solutions' mission is to make the world more sensory-friendly.
Sensory Friendly Solutions is a Certified B Corp™.
B Corporation Certification is a designation that a business meets a high standard of verified performance, accountability, and transparency on factors such as supporting its workers, serving underrepresented populations in the community, sustaining the environment, and creating positive social impact for its customers.