Why Sensitive Santa?
Wondering why parents search for and choose a Sensitive Santa event for their child? Do you enjoy looking back at yearly family photos of your children sitting on Santa's lap? It may surprise you to learn that for many children, having their photo taken with Santa Claus is a challenge. However, finding a Sensitive Santa can help!
The excitement of meeting Santa Claus can be overwhelming for children. For some parents that may sound very familiar. Unfortunately, many parents simply cannot bring their child to visit a regular Santa Claus event because they are unable to cope with the noise, lights, crowds, waiting in line, and even smells. Moreover, it is devastating for families to miss out on creating such a common and cherished Christmas memory.
Be a sensory-friendly supporter and help to include all children at Christmas. Encourage your local mall, community event organizers, even your office Christmas party to offer a sensory-friendly Santa Claus event. Furthermore, with a little help from the strategies we share, sensory-friendly Santa Claus events are easy to do.
To learn and understand more about the importance of sensory-friendly events for many children, you can read our blog post on autism, anxiety, and sensory overload.
It is important for parents to know that when Sensitive Santa events are not available, there are still several strategies to make that yearly Santa Claus photo more enjoyable for all.
Learn these 3 things about Sensitive Santa:
Who Sensitive Santa helps.
How to offer a Sensitive Santa event.
What to do to help your child visit Sensitive Santa or regular Santa.
Before you learn how to offer a sensory-friendly Santa Claus event, you may be wondering why you would offer it.
Who does Sensitive Santa help?
Did you know that about 1/3 of the population is more likely to experience sensory sensitivity?
Sensory sensitivity occurs when individuals have a heightened sensitivity to noise, light, scents, etc. According to research, 33% of people, including children, have an invisible challenge including anxiety, autism, learning disabilities that makes them experience sensory overload in daily life.
Offering sensory-friendly Santa Claus visits makes sense.
If 1/3 children you expect to visit are likely to struggle with the sensory-rich experience of extra noise, lights, scents, along with overall busyness, crowds, and general hustle and bustle, then making the experience more enjoyable is more than just being kind. It can help to create magical memories and capture special moments for all children and families at Christmas.
How to offer a Sensitive Santa event.
You may be curious, what really is a sensory-friendly Santa? We have created a FREE downloadable handbook to help businesses, malls, organizations, workplaces, community centers, and churches with a How-To Guide: Sensitive Santa.
Here is a sneak peek of some of the tips we've included:
Schedule appointment times to visit Santa.
Block off at least 10 minutes per child.
If you are a shopping mall or retailer, set your Santa Claus event during

s

ensory-friendly shopping hours.

Above all, we share more easy tips to help you make Santa Claus visits a success.

What to do to
help
your child visit Sensitive Santa or regular Santa.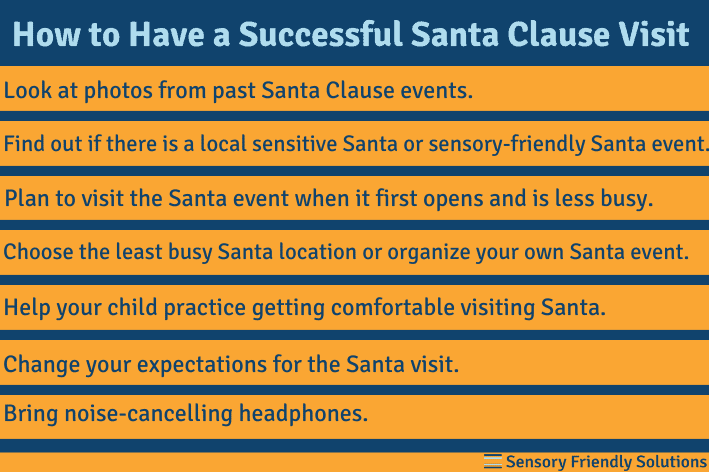 Here are tips to help make visiting Santa Claus a success:
Look at photos taken from past visits to Santa Claus. Reminisce and remember. Talk about what happened and what it was like. It will help remind your child of the experience and what to expect.
Maybe your local mall doesn't offer Sensitive Santa, but they offer sensory-friendly or

autism-friendly shopping hours.

Visit during those times instead.
Plan to visit Santa Claus when the location or event is the least crowded. So maybe when it first opens/starts.
Similarly, choose to visit Santa Claus at the least busy location or event you can find. A local church? Community center? Look around for maybe less popular events.
Organize your own sensory-friendly Santa Claus event for your neighborhood or community.
Help your child practice and get comfortable visiting Santa Claus. For instance, role play at home. Try to introduce your child to the idea of acting out a Santa Claus visit with their toys.
Change your expectations. This one is so hard! Maybe your child won't sit on Santa's lap for a photo. You can get some great, candid photos of Santa passing a candy cane to your child. Or get a photo of your child waving at Santa and Santa waving back. Maybe Santa can read to your child as they sit on the floor.
Bring along noise-cancelling earmuffs for your child to wear to reduce noise sensitivity.
Furthermore, we love these additional tips for sensory-friendly Santa Claus events from Flappiness Is…
And we want to highlight these 3 Parenting Tips for Staying Sane and Gentle During the Holidays. Alison Smith is a mom and parenting coach who helps parents with spirited children. You can also listen to her on Mom Talk Radio in a featured interview discussing Toddlers and Tantrums.
Interested in help for other holidays? Read about Easter and Halloween.
Going to see Santa can be both exciting and challenging for children.  We have created a special story for children to help them prepare.  Get:
An eBook you can view, save or print.
A link to a video of the eBook being read aloud.
Sensitive Santa Events Guide
Creating a Santa Claus visiting event that helps all children enjoy Santa is easy with this guide.  Making Santa, "Sensitive" and sensory-friendly ensure smiles and joy all-around. 
Easy things for Santa to do that helps children
Simple ideas for the location