A Better Restaurant Experience for Seniors with Hearing Loss Guide
Are you surprised to learn that a least a third of the population over 65 years of age has hearing loss that is disabling?
Sharing a meal, especially at a restaurant, can be unpleasant and downright avoided by seniors with hearing loss. Hearing aids do not solve the problem.
However, a few easy changes that seniors can make, their dining companions can make and restaurants can make are key to ensuring seniors enjoy dining and become regulars.
Key steps for hard of hearing seniors to take
Simple things for dining companions to do differently.
Free and low cost changes for restaurants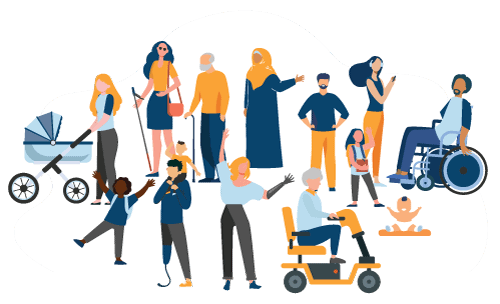 Join 1,500+ people. Receive more sensory-friendly tips and strategies!
Sensory overload is overwhelming, but the solutions can be simple. Our founder Christel Seeberger saw how sensory sensitivity and overload negatively affects people's lives. Join her on the simple but effective journey to being more sensory-friendly via our short, periodic emails.
Our Newsletter for People helps you learn more about sensory sensitivity and sensory overload. Discover sensory-friendly living at home, school, work and in your community.
Our Newsletter for Businesses helps businesses and organizations understand how people around the world experience sensory challenges. Get solutions on how you can offer sensory-friendly events or locations.
We respect your inbox and you can unsubscribe at any time.