In This Episode
Stella Waterhouse, author, autism educator, is creating a solution, even in her retirement, to help people with Koloko Travel. Moreover, travel does not just mean abroad, but close to home too. Her personal experiences with sensory sensitivity have shaped her own understanding and leadership in the field. As Stella says, things still need to be explained, the deluge of information is part of our sensory overload.
About Our Guest, Stella Waterhouse
As a second generation educator and autism awareness expert, Stella shares her personal and professional experience and understanding of the autism spectrum and the many challenges that people with autism and their families face in their daily lives.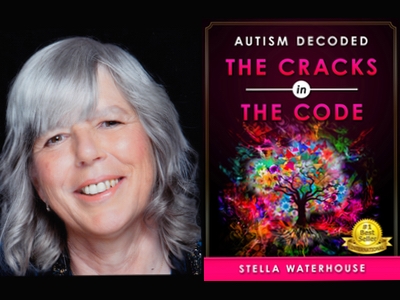 Stella's goal is to develop resources that will offer practical advice, insight and solutions to parents and teachers so that our children's lives are enriched and supported and family life is enhanced.
---
Takeaways From This Episode
The backstory of why Stella Waterhouse focuses on sensory-friendly tourism.
One of my favourite aspects of this podcast is hearing the 'Sensory Friendly Solutions Origin Story.' All of our guests, many international experts, have come to the world of the senses in diverse and unique ways. Whether it is filling a gap in the market, as Carol Kranowitz and Karine Gagner did. Or, diving deep and becoming experts in the field because of personal or family experience as Dr. Bill Wong and Maureen Bennie did, all have been inspired in some way.
Stella Waterhouse first came across autism in the late 1960s. In her work, she met three very different children. But they all shared the same diagnosis. It was this fascination with same and different, that led her to spend much of her career working with both children and adults with autism and Asperger's Syndrome. She has worked as a teacher, caregiver and finally, as a Deputy Principal of a residential community for adults with ASD.
She began researching autism in 1990.  Stella has published several books including "A Positive Approach to Autism." She has since authored a series of concise but informative books for parents and teachers, and is currently completing her forthcoming series "Autism Decoded."
"I think everything's sort of happened by chance."
In the late 1960s, Stella met three children, all of whom were very different. And yet, all of whom, shared the same diagnosis. This curious case was the catalyst of a life-time of fascination with the world of autism.
How was it possible that all three could share the same diagnosis, but were all so totally different? 
Stella wanted to know more.
"So one thing led to another and I actually went into initially to teaching children with autism and other disabilities."
She goes on to describe some of the characteristics of these fascinating children.
"One of them was the most beautiful little girl, a sort of mini Mona Lisa. Totally silent. Seemed to be in her own world all the time. But a really lovely child. Another was a young boy who, well, he was probably going on for, heading for about 12. And he used to eat anything and everything, regardless of how hot or cold it was and whether it was actually edible or not. The third one was another really lovely girl who used to just up and run at the drop of a hat. She'd be found wandering a couple of miles away, not having gone anywhere specific. She'd just run. So all those things intrigued me."
For the reader and listener who has been with us from the conception of this podcast, you may detect notes of Maureen Bennie in the description of our second child. What you may be interpreting in the description Stella lends us, is the lack of "Interoception," also known as "our eighth sense." Listen to Episode #2 of the Sensory Friendly Solutions Podcast for a fascinating deep-dive.
What happened after Stella came across an obvious gap in the literature?
"I started talking to parents and I read any research papers that…actually spoke about how the person felt…"
In this research, Stella, as many of our guests have concluded, also learned a lot about herself. Why might that be?
"Because although I don't have autism, I did have sensory differences which impinged on my life quite a lot, although not in the same way as a person with autism would experience that."
In Dr. Bill Wong's TEDx Talk from Episode #04 of the podcast, we learned that neuro-diversity statistics cite that 16% of anybody, anywhere have sensory issues of some kind. For Stella, the manifestations were physical.
"…I had visual differences, which meant my eyes didn't focus together. So I suffered from migraines quite frequently, especially if I went anywhere with bright lights, that sort of thing. And also I had hyperacusis. So I was very sensitive to specific noises, which sounded a lot louder than they actually were and were really infuriating. And once I'd started delving into it a bit more, I found that kids and adults with autism had those problems but at a much more extreme level."
For more on the lived experience of children sensitive to noise, listen to Episode #03 of the Sensory Friendly Solutions Podcast with entrepreneur and mother, Renee Warren.
Why is filling a gap in the market so critical to our understanding of the sensory world?
"I see parents saying, "Why does my child cover their ears when such and such happens?" Which I find it really sad that the major autism organizations aren't explaining that when the child is diagnosed. Because then the parents can actually do something to help them. But all too often, they're left to find out the answers for themselves. And there's so much information out there now that that's actually quite difficult for people to know what is genuine information and what is misinformation, really."
We've heard this time and again throughout the course of this podcast. We've experienced two different streams. First, there isn't enough information available and families are left to fend for themselves. Or, second, a symptom of our modern media market, there is too much information available. But then no understanding what is true and valuable and what is not becomes incredibly hard.
Has COVID-19 impacted our senses?
"I think everybody at the moment is more anxious because of COVID. And I think that does have a knock- on effect on your sensitivity. As you get more anxious, people seem to become more hypersensitive to everything that's going on around them…
And I think, unfortunately, an awful lot of people feel that they have to listen, almost, to the news and keep up with every little thing. But I think that's actually has a really depressing effect on a lot of people."
With the current moment in mind, we transitioned to considering the inspiration for autismdecoded.com. That is where Stella Waterhouse has a platform for her public-facing work.
Fundamentally, it came down to the desire to help people understand there are sensory friendly solutions out there.
"…it is trying to get people to understand it's not just having sensory differences that matters. It's the actual effects they can have on you. If you can't see properly, or you're always anxious that a noise is going to happen that will be a bit like fingernails scraping down a blackboard, gives you that sort of feeling, then you are anxious all the time. And it's trying to get across to people the effects, but also the fact that there are things you can do to help."
And sensory-friendly tourism comes to life.
One of the specific initiatives seeking to disrupt the current sensory friendly model and offer that help, is an innovative take on tourism support for families with sensory friendly needs, called Koloko Travel.
"…four or five years ago, there didn't seem to be very many resources at all for in terms of where parents could go with their children on holiday and actually enjoy a stress-free holiday. It's always difficult, particularly for families of kids who've got autism, because the kids don't necessarily find it very easy to cope with either the traveling or going to new places. I initially wanted to set up a place. And then I thought, it would be much better, in fact, to make a directory of all the places that were suitable, or halfway suitable at least if they weren't actually autism-friendly."
"So I sort of started doing it as a hobby and just collecting a list of places. And then a couple of years ago, I decided it needed to be a proper professional thing, really. So we've been working on that."
A three-part solution to help people discover sensory-friendly tourism.
Although incredibly useful for parents, perhaps the true innovation comes in part 3 of Stella's description of the business in the later stages of the podcast.
"…it's something, we've got sort of a threefold approach, if you like. One part will be a directory so that parents can go and browse it and look for holidays with their children and hopefully find something and book direct. The other part is run by Nick, who is the travel agent. And he will tailor- make holidays for people. And the third bit is actually for kids and teens, so that they can go and explore the world before they actually even get to the stage of traveling…so that they can go travel the world, see what it's like to go on a train or an airplane. See all sorts of things, really."
Sensory-friendly tourism with the Oasis Café
It's called Oasis Café and it seeks to bring sensory friendly fun to children around the world from their own homes. Especially in the midst of a global pandemic, I can hardly think of anything as necessary or as creative.
"…the other thing that we've gone for, really, is also trying to do virtual reality tours of places so that you can actually go to a hotel and see what it's like, see what the bathroom's like, what the bedrooms are like, the gardens, that sort of thing, just to reassure people. And hopefully that will get them interested and enable them to start thinking that holidays can possibly be something that is exciting and nice to do, fun to do."
What are Stella's tools, tactics and strategies that she uses for reducing the noise of the current era?
The first thing Stella recommended is to seek out resources you need, wherever you are physically, emotionally and in your sensory journey.
"I think there are a whole range of resources out there now. There's a lot of mental health resources and that sort of thing."
As it applies to the lock-down they experienced and are now experiencing again in the UK, Stella revealed how there was a divide within the autism community.
"Some children really benefited from not going to school and staying at home and doing homeschooling, and others found it tremendously difficult because they'd lost the routine."
Regardless of where you are, Stella reminds us that, although there isn't an easy way around these things, we will come out on the other side.
From all of us at the Sensory Friendly Solutions Podcast, we look forward to seeing you there.
Download, listen, and share Episode #7 of the Sensory Friendly Solutions Podcast on all of your favourite podcast platforms.
---
Christel's Reflections
For Part 2 of Episode #07, industry leader and Sensory Friendly Solutions CEO Christel Seeberger joined us to reflect on this episode.
The spectrum of lived experience
Christel first drew our attention to the idea of lived experience and it's importance in modern sensory study.
"Stella first searched for books in the 1960s written by autistic individuals. She wanted to read about people sharing their personal stories. And she found only two. It seems unbelievable in today's world that there were only two first person accounts. We are so accustomed to people sharing their stories daily. Each one of our guests, in fact, have shared personal examples of a sensory experiences in their own lives."
Christel also rightfully points out, when we experience a deluge of information, it can be really hard to wade through the waters of online media. It's a feature, not a bug, that we seek podcast who have become celebrated evidence based communicators.
"I also appreciated Stella sharing her perspective that things still need to be explained. We often take for granted that other people know what we know. There is so much information out there that it's difficult to navigate. It is difficult to find what you're looking for…"
Koloko Travel is one of those solutions
"It's one that really gives me hope for a better future. Koloko Travel. Right now, while the world copes with COVID-19, when we turn to recovery, we need solutions that are going to help us return to living. And I really see Koloko Travel as one of those solutions, making local, regional, domestic, and one day a return to international sensory-friendly tourism, easier."
Thanks, Christel.
---
Innovation Segment
Throughout the course of the Sensory Friendly Solutions Podcast, we want to ensure that you take action. 
Moreover, we hope we have, in some way, improve your quality of life.
First, from all of us here at Sensory Friendly Solutions, a big thank you to everyone who has written in to tell us how much they enjoy the Innovation Segment. We want this podcast to point towards solutions. Yes, we dig in to the career arc of some of the best in the industry. We explore the work they've built. And, we also uncover the resources that we hope become your 'sensory friendly arsenal.'
For Episode #07 of the Sensory Friendly Solutions Podcast, we're sharing the fascinating innovations of Stella Waterhouse and her collaborators.
Order Stella's wonderful book, 'Autism Decoded: The Cracks in the Code'

"Autism Decoded: The Cracks in the Code – delves deep into the world of autism: a place where the truth is often far stranger than fiction. Along the way the reader is invited to investigate the many varied facets of autism and the theories that surround it, and, guided by the author, is also encouraged to question the status quo."
Stella and her team continue to innovate on sensory-friendly tourism with Oasis Café.
Stella Waterhouse, thank you for your leadership and for your participation in the Sensory Friendly Solutions Podcast.
Download the Sensory Friendly Solutions Podcast Episode 07 Decoding Autism with Stella Waterhouse Transcript in PDF or HTML.
We look forward to seeing you back next week for Episode #08 of the Sensory Friendly Solutions Podcast.
Thank you for being on this journey with us.
---