Jumping Jacks Children's Boutique is a sensory-friendly leader. They are a sensory-friendly store.
They are located in Fredericton, New Brunswick, Canada and are locally owned. Jumping Jacks is a quality children's and maternity consignment boutique. Furthermore, they also proudly carry many local products along with other new products.
Alessa Martin, an autism mom, established jumping Jacks in 2018. They are unique because they give back to the community in so many ways. Alessa shares her story as she is a mom of three with two boys who are autistic. Therefore, she truly understands the reality of autism and shopping with children. As such, she has created a sensory-friendly store.
As a sensory-friendly store, at Jumping Jacks they:
Carry sensory tools products from FDMT, another Canadian company.
Sell custom weighted blankets & lap pads.
Welcome moms who are breastfeeding. Alessa wants moms to be just as comfortable as their children in the store. This is just one of many examples of help and understanding for families in general, including autism families.
Having a play area in the middle of the store. As an autism mom, she understands a day in the life of autism. She knows that autistic children bolt and children with autism wander. Alessa created an engaging play area in the middle of the store to entertain children and keep them away from exits.
Provide a fully-equipped change table for infants and toddlers.
Invite and welcome parents of autistic children to the store to have a chat with Alessa.
Moreover, the Jumping Jacks clothing donation program helps:
Foster families
The neonatal ICU at the local hospital
A clothing bank at the nearest elementary school
So as a sensory-friendly store, they give back to people in the community who are also likely to seek sensory-friendly living too.
Also, they've hosted an exceptional student with Down Syndrome on a career placement. Alessa relays that the student thrived in a retail environment. Alessa views that experience as beneficial for an employer, for the community as well as for the student.
Even more, they have two charity consignment accounts that benefit OPAL Family Services and Autism Connection Fredericton. These two organizations serve special needs families, including families with autism, and are close to the heart of Jumping Jacks' owner Alessa.
Meanwhile, Alessa and Jumping Jacks are truly sensory-friendly leaders. They hosted their first Sensory Friendly Community Fundraiser in 2018 They had several emergency vehicles visit. This is another way that Alessa and Jumping Jacks support autism. She knows children with autism often have noise sensitivity. Nevertheless, she knows the importance as a parent of her children being comfortable with emergency vehicles and emergency responders. Therefore, the event had emergency response vehicles visit, but without their lights, sirens, and horns. Again, they gave back in many ways, collecting non-perishable breakfast food items for Priestman St. School breakfast program at the event.
In conclusion, thanks to Alessa and Jumping Jacks for being a great example of a sensory-friendly store.
You can discover more about sensory-friendly shopping vs. autism hour.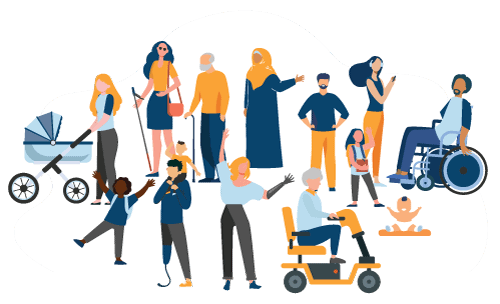 Join 1,500+ people. Receive more sensory-friendly tips and strategies!
Sensory overload is overwhelming, but the solutions can be simple. Our founder Christel Seeberger saw how sensory sensitivity and overload negatively affects people's lives. Join her on the simple but effective journey to being more sensory-friendly via our short, periodic emails.