Eid is an important celebration for Muslims around the world. One way Eid is celebrated is with morning Eid prayers. This is a special part of the day that families look forward to. On the other hand, while this is a beautiful opportunity for many, it may also contribute to sensory overload or be difficult for people with sensory sensitivities. Therefore, offer a sensory-friendly Eid prayer and solve the problem of sensory overload.
What is sensory-rich about Eid prayer?
First, know that Eid prayer may be a challenge for some people who experience their senses differently. Furthermore, Eid prayer is a sensory-rich experience. Sensory-rich means that an environment or experience is multi-sensory, or stimulates more than one sense. Therefore, sensory-rich environments often contribute to sensory overload.
For instance, a sensory-rich aspect of Eid prayer is the large crowd that gathers together to pray. The presence of new people in an unfamiliar or familiar environment can be uncomfortable. For example, people stand close enough to brush shoulders against one another. This can be difficult for people of any age, who experience sensory overload. Furthermore, before and after prayer, people in the mosque often chat together. Moreover, the sound of people talking from every direction can be too much noise. In addition, bright lights add to sensory overload. Finally, for Eid, the mosque may also be decorated which can be overwhelming visually.
Steps to create a sensory-friendly Eid prayer
Mosques can take a few simple steps and create a sensory-friendly Eid prayer experience that includes more people and is accessible to people with disabilities.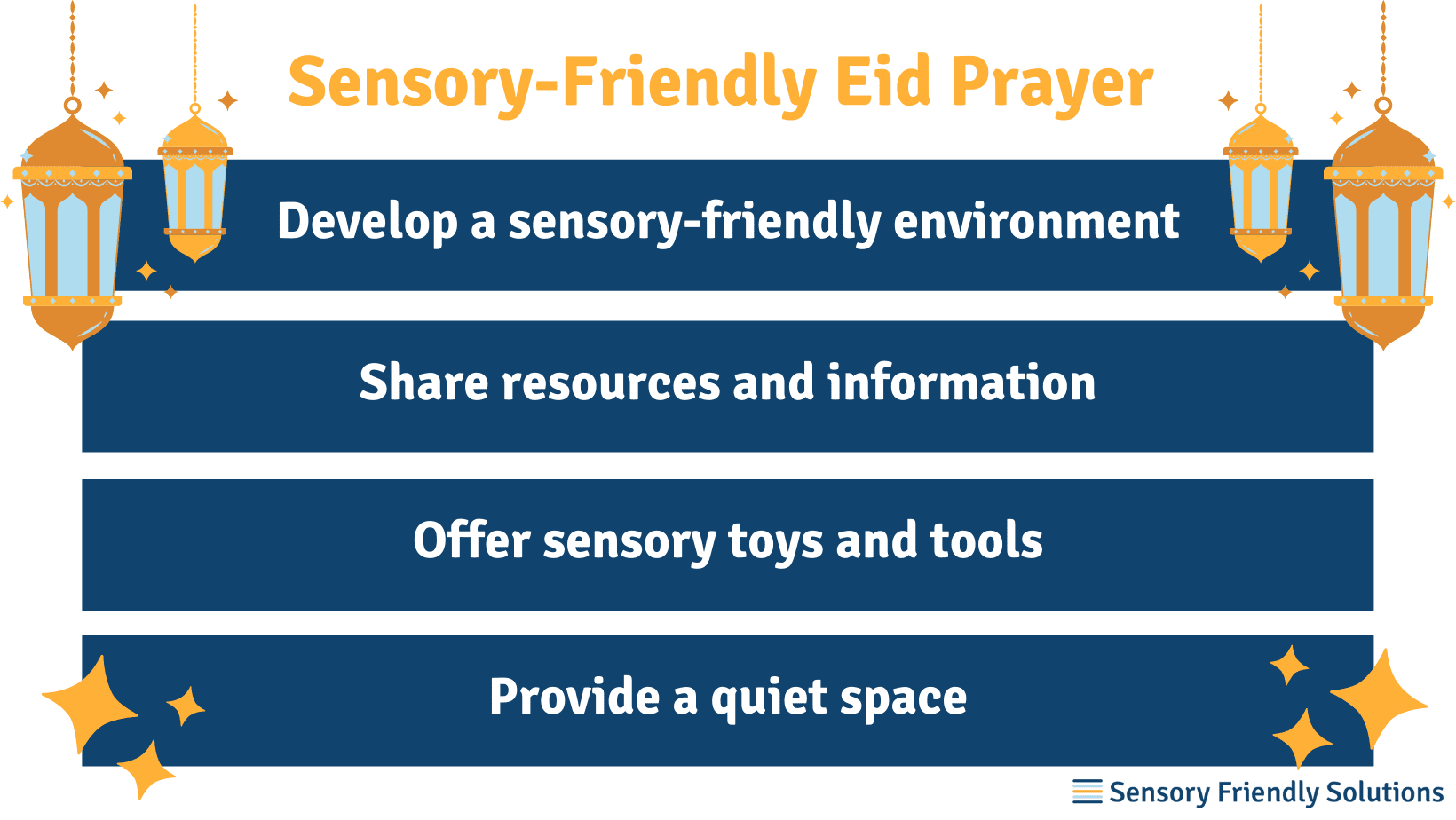 Develop a sensory-friendly environment at the Mosque
Here are some things to change at the Mosque to create a sensory-friendly environment:
Reduce noise.
Create scent-free zones.
Reduce or remove fluorescent lights.
Provide comfortable seating, for example chairs with arms.
Have unscented prayer mats.
Eliminate clutter.
Share sensory-friendly resources and information
Communities benefit from understanding more about accessibility and inclusion like sensory friendly environments. Involve your community and develop solutions together. Another example is to create a sensory-friendly story about visiting the Mosque and going to prayer. Stories like this help to prepare children for what to expect at the mosque.
Offer sensory toys and tools to your community
Different people have different sensory preferences. Everyone is unique.
Sensory-friendly toys and tools help people with sensory differences manage a sensory-rich environment. So, offer sensory toys and tools. For instance, you can create a lending library at the entrance of the mosque, so people can borrow them when they enter and return them when they leave.
Provide a quiet space or zone
A quiet space or zone helps people of all ages. Everyone can feel overload, overwhelm, stress, and overstimulation. For instance, use a separate room of the mosque to create a quiet space or zone. Add some comfortable seating, fidgets, books, weighted lap pads and quiet activities.
Autism Without Limits blog post highlights different ways to adapt your Eid celebration to be more accessible for all children. Check out the blog post for ideas to modify Eid traditions to be comfortable for everyone. Finally, find more resources for Muslim holidays and celebrations:
Sign up for the Sensory Friendly Solutions Newsletter.
Feel empowered to make sensory-friendly changes and understand the spectrum of different sensory experiences. 
Unsubscribe at any time.