One of the most exciting activities surrounding Easter is having your child participate in an annual Easter egg hunt. Typically, this involves hiding colourful eggs around your house or backyard. Additionally, you may invite other children from your community or family members to participate and take part in the hunt! As a result, Easter egg hunts tend to be a very sensory-rich experience due to the group of excited children, loud noises and high-energy competition. For many children sensory-rich experiences are not enjoyable, provoke anxiety and create overwhelm and meltdowns. A sensory-friendly Easter egg hunt solves those problems.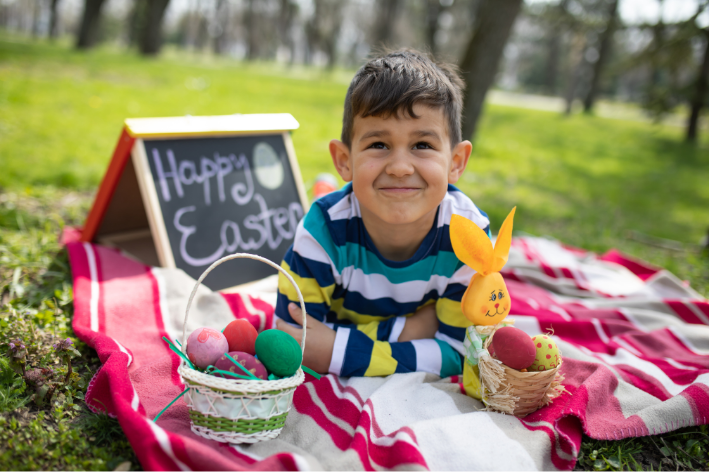 You may be curious about ways that you can make your Easter egg hunt become sensory-friendly. A sensory-friendly Easter egg hunt ensures that your child, visiting family or friends can all participate with joy. Many children have sensory sensitivity. Many children experience sensory overload. Autism, anxiety, learning disabilities, sensory processing disorder and post-concussion syndrome can increase the likelihood of experiencing sensitivity.
Find 10 easy tips below to make your Easter egg hunt a sensory-friendly event!
1. Create a Schedule
Create a schedule of what the Easter egg hunt will look like and involve before the event. You may want to use words, pictures or a combination of both depending on your child's age and learning style.
On this schedule, you can include the different activities that will occur throughout the day. So include the time the Easter egg will start. Show how long the children will have to find the eggs. Add in any other special activities you plan for the day. This will allow your child to develop an idea and expectations of what will happen during the hunt. It will make it a less overwhelming experience.
2. Colour Code Easter Eggs
Secondly, you may want to consider colour coding the eggs. This is especially helpful you are planning to do the Easter egg hunt with more than one child. Or more than one family. Additionally, color coding eggs helps children know how many eggs they should be looking for. Keep it simple and fun. Avoid placing eggs in locations too difficult to find or reach.
Also, you may want to help children keep track of their progress throughout the event. That will help your child know when they should stop looking for eggs. Your child may like to help keep count of their eggs. Counting eggs can eliminate feelings of competition. It can also prevent feelings of anxiousness and frustration. Importantly, counting eggs will ensure that each child finishes the hunt with an equal number of chocolate and gifts!
3. Practice Your Easter Egg Hunt
The next suggestion is to complete a trial Easter egg hunt before the event. You can do this by hiding empty eggs around your house and backyard. A practice hunt allows your child to have a greater understanding of the event. It helps them become familiar with the actions involved. Ultimately, a practice hunt helps to manage expectations and reduce feelings of stress on the day of the event. "Playing" Easter egg hunt can be just as much fun as the actual event!
4. Provide Sensory-Friendly Tools
If you are planning on doing the events outdoors, bring sunglasses and earmuffs. Sensory tools are helpful if any of the children have sensory sensitivities. Bright light and loud noises can be overwhelming for child who experience sensory overload. By including these sensory-friendly tools, you ensure that all the children can participate!
5. Wear Comfortable Clothing
Next, make sure that your children wear comfortable clothing. You may want to your child to wear an Easter-related costumes or new clothes or get "dressed-up" in more formal wear. Or maybe, wear bunny ears while doing the Easter egg hunt. However, for your child with sensory sensitivities, uncomfortable clothing is irritating. Choose sensory-friendly clothing. Remove any tags if they are bothersome. And dress your child in familiar, comfortable outfits. Choose clothing that lets them move around easily.
6. Water, Snacks, and Toilet Access
At your Easter egg hunt, provide water, snacks and a toilet for the children and adults to use. You have 3 more senses in addition to the 5 senses that you are likely familiar with. Interoception is the sense that is responsible for regulating our internal organs. It is your internal body sense. It helps you understand feelings of thirst, hunger and the urge to use the toilet. All of these sensations can lead to sensory overload.
Be sure to avoid sensory overload by offering toilet breaks and food and drinks at your Easter egg hunt.
7. Create Quiet Zones
Create a quiet zone areas at your Easter egg hunt. Children and adults alike will appreciate it. This is dedicated area where children or adults that need separation from noise and excitement can sit and relax. Busy, noisy, bright environments often contribute to sensory overload. In fact, research has found that up to 50-70% of people with autism have an increased sensitivity to noise. Quiet zones are a solution.
Add comfortable seating and sensory-friendly toys to your quiet zone. Maybe a bean bag chair. A few fidgets. Some books to read. A quiet activity like a puzzle. Children and adults will be delighted.
8. Familiar Location
It is important to think about the best location for your Easter egg hunt. It is helpful to choose a location that your child is familiar with. Also, try to pick an area that is quiet. And one that has the ability to be divided into a busy area and a quiet area. Choosing your location wisely will help your child better adjust to the space and give you greater control for potential sensory triggers.
9. Small Guest List
Avoid inviting too many people to the Easter egg hunt. Large and noisy crowds tend to be extremely stressful for your child with sensory sensitivities. Keep your guest list small. Or invite people in shifts.
10. Sensory-Friendly Toys
Lastly, consider adding small sensory-friendly toys into the Easter eggs. This may include things like small fidget spinners, light-up balls or silly putty. They are a nice break from all the chocolate, candy and sugar.
A wonderful supplier of sensory toys and tools is FDMT. They have many toys that any child would enjoy! Consider adding a few of these options into your Easter eggs this year.
Wishing you a happy, sensory-friendly Easter egg hunt!
Here are more ideas for making Easter accessible and inclusive:
Parents, are you looking for more sensory-friendly ideas to help with other seasonal holidays? Read on:
Being sensory-friendly is easier with our newsletter.
Get timely sensory-friendly tips and strategies by email to understand sensory challenges. Unsubscribe at any time.