A sensory garden is a wonderful experience for people of all ages. If you have a child with a sensory processing disorder, sensory sensitivities, or autism, it may be hard to find experiences that are sensory-friendly. Many adults also find environments too busy, noisy and bright. This can lead to sensory overload and feeling anxious or stressed. Therefore, it is helpful to find activities and environments that your whole family can be comfortable in!
What is a sensory garden?
Have you ever heard the term "sensory garden?" A sensory garden is an outdoor garden that creates a special sensory experience. Sensory gardens often consider the 8 different senses. People of any age who experience sensory sensitivity enjoy experiences that are calming. And people, in general, often enjoy sensory gardens for their relaxing effect.
What is the purpose of a sensory garden?
The purpose of a sensory garden is to create a space that includes people and makes them comfortable. It allows people to enjoy nature in a relaxing setting. Furthermore, spending time outdoors often improves mood and emotional health. Typically, these gardens consist of plants with different colours, textures and smells. Also, sensory gardens may have features such as:
Windchimes
Ponds
Bird feeders
Accessible paths
Forms of garden art
Additionally, research on the influence of sensory gardens on behaviours of students with special needs found that sensory gardens offered these children social, physical and sensory stimulation.
The Kingsbrae Garden
A wonderful example of a sensory garden is the Kingsbrae Garden. This garden is located in Saint Andrews, New Brunswick, Canada. Additionally, it was created in collaboration with the Canadian National Institute for the Blind.
The goal of this garden was to create an inclusive and accessible for all visitors to enjoy. Kingsbrae Garden provided photos and additional information about their Scents and Sensitivity Garden for this blog post.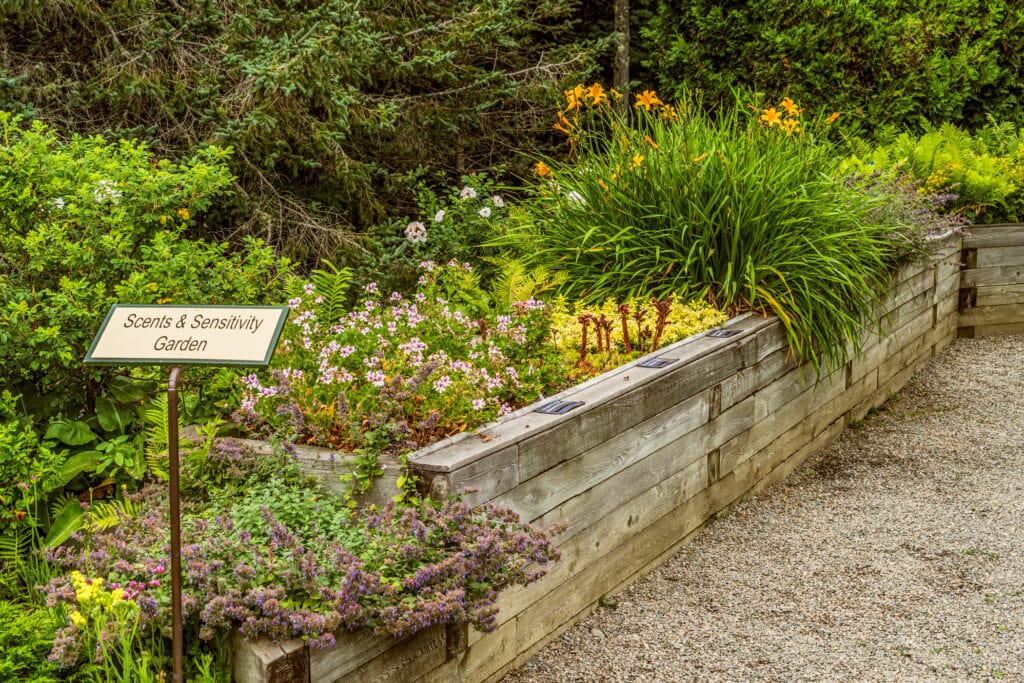 Features of a Sensory Garden
Easy-To-Navigate Garden Beds
This garden space includes features such as, waist-high raised-bed garden, designed for the enjoyment of the visually impaired. This type of design ensures people with low vision or changes in vision can easily move around the garden. Moreover, it helps the mobility and safety of all guests.
Touch and Feel
For instance, this part of the garden features plants alternating between scent and texture. And all plant labels are engraved in Braille, as well as in English and Latin. By including Braille print, guests with low vision can learn more about the different plants within the garden too. This promotes the independence of guests with vision loss. It also encourages them to develop a greater understanding of the wildlife.
In addition, the textured plants in the garden are calming. This is especially important for people with sensory sensitivity. The textured surfaces is helpful for children in particular to explore their senses through touch and feel.
Shaded Areas
The Kingsbrae Garden includes windchimes in the tall trees nearby, which also offer cooling shade from the sun. Direct sunlight can be a problem for some people. Tall trees offer a buffer.
Furthermore, sunlight itself, and its reflections may be irritating. Many people with sensory sensitivities wear sunglasses more than others. Therefore, the inclusion of outdoor shaded areas helps.
Floral Scents
Within the garden, there are scented plants in special sections like flowering dogwood and wild rugosa roses on the perimeter. This adds some scents to the Scent and Sensitivity Garden. Fresh and floral scents can help to produce a calming effect. Additionally, the plants chosen are not heavily fragrant. Therefore, they are less likely to be bothersome for someone sensitive to smell.
Quiet Sitting Zones
Lastly, this garden features benches to rest amidst a calming oasis. This is very important for those who may feel easily overwhelmed by groups of people. By providing a quiet area for guests to comfortably relax, it increases the accessibility of the garden. And makes it a more inclusive experience. Additionally, this is helpful for those with mobility impairments. It provides the option to add breaks when standing and walking.
Sensory gardens, similar to the Kingsbrae Garden, are a great sensory-friendly activity. Considering bringing your family to a sensory garden this upcoming spring and summer!
Special thanks to Kingsbrae Garden for their contribution and for being a sensory-friendly champion.
Looking for more ideas about sensory-friendly outings? Then, check out:
Being sensory-friendly is easier with our newsletter.
Get timely sensory-friendly tips and strategies by email to understand sensory challenges. Unsubscribe at any time.