Does your church need a sensory room?
More churches and places of worship are adding sensory rooms to their facilities. In addition, some churches offer sensory-friendly services too. Do you think your church would benefit from a special needs or a sensory room? Furthermore, do you wonder how to offer a sensory-friendly service?
For instance, if these are your goals, then a sensory room at your church is a benefit:
Increase family attendance
Improve family comfort
Become more accessible to the congregation
Be inclusive to more church members
Build a positive relationship with children
Address sensory differences of children and youth

A sensory room at your church will benefit children and youth
Examples of underlying disabilities, disorders, or differences that contribute to a child or youth having different sensory needs are:
Anxiety, autism, concussion, fetal alcohol spectrum disorder, intellectual disability, learning disability, hearing loss, low vision, neurological disorders, post-traumatic stress disorder, sensory processing disorder, seizure disorders, trauma, vestibular disorder, and other disabilities.
In addition, read more about all the underlying conditions that can contribute to additional sensory sensitivity.
Finally, many of your parishioners likely experience these types of difficulties. Add a sensory room at church and help your congregation.
5 decisions to make when creating a special needs room at your church
Determine the best location. Will it be adjacent to the worship hall? Or will it be in a different spot altogether?
Consider the age-range of the room and chose items for the room accordingly.
Will it be different from a play area or will this room also act as a play area?
Possibly, you want to add a church quiet room. This would be an area with fewer toys, equipment and likely a place for adults to use too.
Will it be a multisensory room? Are you trying to engage the eight senses?
Here are some basic church sensory room ideas
Rocking chair (child and adult both!)
Beanbag chair
Love seat
Armchair
Padded floor area, low profile and high profile
Fidgets
Mini-trampoline
Avoid fluorescent lighting or consider adding diffusers to them. Also, include overhead lights that have the ability to dim.
Add floor or table lamps to soften the lighting.
Include sound-absorbing materials like floor carpet tile.
Add pillows or even some crash pillows.
Some tabletop toys
Furthermore, you can create sensory rooms on a budget and you can do a lot with do-it-yourself or "DIY" sensory rooms. First, start simple and add from there. Try to use simple furniture. Maybe, your congregation donates chairs. Consider asking families within the church to donate items that their children have outgrown. On the other hand, you can also fundraise to purchase specific items. Furthermore, there may be funding programs available to help you create an accessible and inclusive space.
In general, focus on providing calm and focusing items. In contrast, try to avoid including noisy and exciting toys.
Although swings and suspended seats are popular to include in sensory rooms, always use extreme caution if including these features and ensure that the installation meets standards and building codes. As well, pay close attention to weight capacity, safety underneath the swing and breadth with a large area of padded flooring and possible wall surface if possible.
Additional features to consider in a church sensory room
Windows to see into the church if the room is adjacent to your area of worship
Audio feed
Video feed
Accessible entrance and most importantly an accessible toilet
Remove safety and choking hazards for toddlers and young children
Moreover, you might wonder how to create a sensory room for kids with autism. In this instance, learn about autism and sensory. Furthermore, learn about autism, anxiety, and sensory.
Have a look at this article, "3 Steps to a Sensory Room for Your Small Church" by Holly Sharpe (2021) where a special educator and behaviour analyst shares their thoughts on sensory room and why church should have one, too 1.
5 ideas for sensory-friendly worship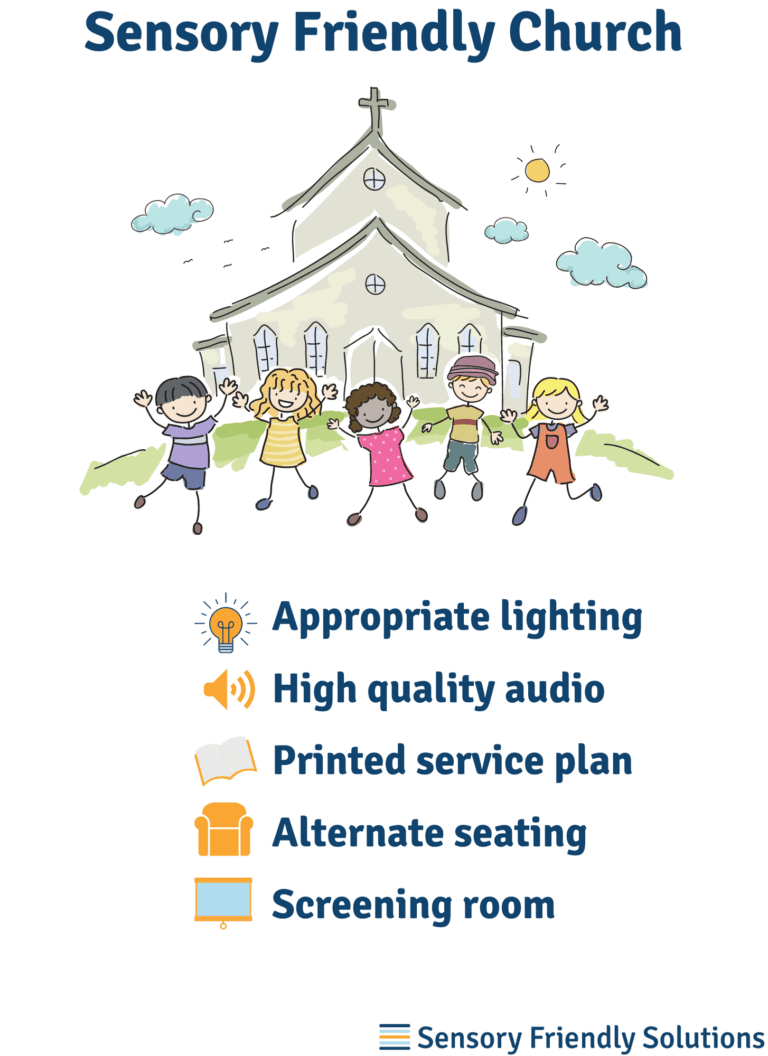 1. Appropriate lighting
Avoid extremes in light. No spotlights and no darkness.
2. High Quality Audio
Ensure good quality sound. No crackles and no distortions.
3. Printed or Digital Service Plan
Try to let people know what to expect. For those who experience sensory overload, knowing what to expect in advance is helpful. So, have an order of service printed to give out and include a standing one on your website. Include information such as: how long will the service be, how long is each section and when will there be music? Note which sections are loud and which sections are quieter.
4. Alternate Seating
Make room and ensure space for mobility devices. Do not relegate people to the back of the church unless they want to be there. Reserve aisle seats for people who use a cane, walker or other mobility aids. Consider adding alternative seating such as a rocking chair or armchair. Include having smaller chairs available for children to encourage them to sit for prolonged periods of time.
5. Screening Room
Provide an alternate viewing room with video and audio feed. Always ensure good quality sound. A quiet space that is less crowded.
Add a sensory room to your church and offer sensory-friendly worship! For more information about the experience of attending church with a child with sensory sensitivities, check out Shawna Wingert's blog post.
Moreover, find sensory-friendly help if your church hosts other events:
Sign up for the Sensory Friendly Solutions Newsletter.
Feel empowered to make sensory-friendly changes and understand the spectrum of different sensory experiences. 
Unsubscribe at any time.
Christel Seeberger has worked in health care for 30 years, including helping people with sensory sensitivity who experience sensory overload.  Christel has a hearing disability and experiences sensory sensitivity and sensory overload herself.  She founded Sensory Friendly Solutions in 2016 to make the world more sensory-friendly, accessible and inclusive.
Source
Sharpe, H. (2021). 3 Steps to a Sensory Room for Your Small Church. Small Church Ministry. https://smallchurchministry.com/sensory-room/