Post-concussion Symptoms Have Changed My Life Forever.
A fall down the stairs. Because I was in a hurry to get to work. And yes, there it was concussion by "whiplash!"
I'm an occupational therapist with 25 years of experience. Even I didn't know that you could have a concussion due to whiplash. Whiplash can occur without your head even hitting a surface. Ultimately, my concussion diagnosis was a surprise to me. As it is a surprise to many adults and children too who experience a concussion…or more than one.
I have been learning to live all over again with post-concussion symptoms in addition to the extreme consequences of this stupid accident for a year now.
Head injury symptoms can last for days, weeks, months or even years. My injury has led to a year of intense learning and I admit that my brain wants to rest. I do not want to relearn how to live every day. However, this experience has been a year of extraordinary discoveries too!
A failure to fulfill my roles from one day to the next
It was very difficult to realize that in one second everything had changed. I used to wear several hats: mom, wife, a catechist for young people in my parish, caregiver for a parent at the end of life, general occupational therapist and specialist in driving and significant professional involvement in my work environment. Furthermore, over the last few years, I had several patients who were referred to me as an occupational therapist for post-concussion cognitive therapy.
The accident occurred when my foot slipped on the first of 12 steps in the house. Suddenly, all those "hats" I used to wear and responsibilities/expectations I had to uphold fell off. I could no longer listen to my daughter tell me about her day. Even the subtle noises of combing through my own hair attacked and irritated me. I was enduring unbearable headaches 24/7 for weeks. The natural light in the house was intolerable. Most days it seemed like everything was an irritant.
Concussion treatment at home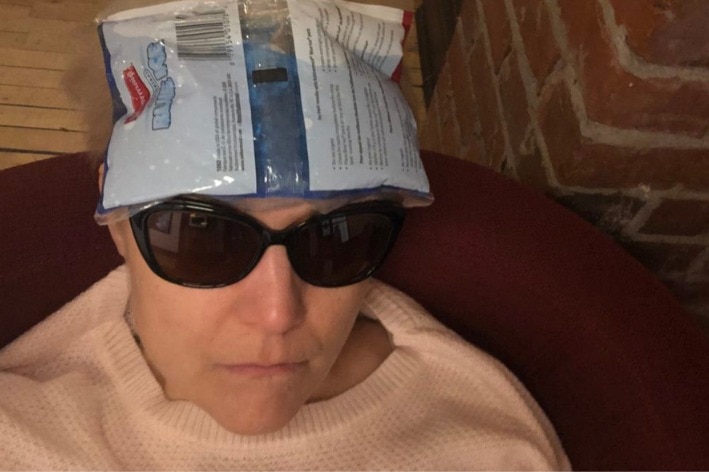 Rest seems like a simple concept, except when you have a constant headache. Everything felt intense. Strategies that used to work to help me relax, including reading a book or listening to music were no longer tolerated. Even something like an aromatic face mask is now an attack because of the scent.
In addition to this, I had to leave my home for treatment. Now, I had appointments with doctors, various specialists, the vestibulo-ocular physio, my psychologist, and so on. I had to create an organized calendar that took all my energy to plan my meetings and transportation. I absolutely could not drive with the headaches . Furthermore, I was experiencing as I would face instant pain in my eyes the moment I wanted to look around.
Being an occupational therapist, I always told my patients every day to try to reduce sensory overload. This was accomplished by doing things one at a time and respecting their own limitations. However, once I was a patient myself, I struggled to try to listen to my own clinical advice. I quickly forgot all those beautiful instructions which once seemed so simple when I was the one giving them out to clients.
Post-concussion symptoms
One of the most difficult things to manage on a daily basis, even one year after the concussion is the auditory and visual stimulation. Sensory sensitivity is part of my daily life. I can now tolerate noise and light a little better when I am at home but still experience difficulty doing this within an outdoor setting. Grocery shopping was a nightmare for several months and I still experience issues with it to this day.
I drive, but I had to adapt my driving to try to avoid the heavy traffic hours. Currently, I only drive during the day only and I have been hesitant to attempt to drive longer distances. My social outings are limited to going for a hot chocolate in the evening when there are almost no customers in the little cafe nearby. I have managed to attend some performances but I am forced to wear earplugs to eliminate the noise and decrease the fluctuations in the intensity of sounds and intonations.
Also, I have not yet resumed my volunteer activities. I am still on sick leave and I no longer consider myself the friend who offers help to everyone. The new me is the friend who asks for help now.
Do I need to emphasize that big box stores and shopping malls are just a no-no? Merely thinking about being in that type of setting makes my head hurt!
An amazing discovery
I found a wonderful resource to complete my grocery shopping: the sensory-friendly hours with reduced noise and light. This has been a real gift from heaven. Some grocery stores offer a few hours a week when there is no music and the volume of the "scanners" at the cash registers are greatly reduced. In addition, the number of lights turned on is fewer, and the employees do not collect grocery carts during these hours. Sensory-friendly shopping is increasing in popularity, thank goodness.
These strategies are all wonderful for my post-concussion symptoms. To not have to hear the noise of the carts being pushed around is a soothing balm for me! Because there is no background music, I realized that I could spend more time looking at the products and I could take the time to choose what I wanted. I find myself discovering specials and new items!
It has been a real joy to go shopping during sensory-friendly shopping hours. I do not have to wear my fluorescent orange earplugs. Nor do I have to wear sunglasses inside the store.
Finally, I am able to drive home without being exhausted!
Adopting sensory-friendly practices by businesses makes all the difference in my daily life. So sensory-friendly movies and performances are in my future too.
Long term effects of concussion: being present only "in" the moment
It is trendy to talk about "being in the moment." It's fashionable and cool to say, "I do things one at a time" or "I am present in the moment". Alternatively, I have to be aware of only the present moment because of my concussion. So, I can tell you that to live that every day is something different altogether. These are not voluntary choices, these are my needs. My injury forced me to change and be present only "in the moment". I have learned that this is not an easy thing to incorporate all day and every day. My brain is in survival mode as it is still healing. Moreover, it is incredibly fragile.
Post-concussion syndrome forces me to be aware of my symptoms and my new limits. I have to acknowledge which noises and lights will be just too much to handle and which times of the day will consume most of my energy. My daily life is never 'Zen' enough for my brain. However, I have started meditating, which does me a world of good!
A concussion diagnosis: life goes on
So, I continue my rehabilitation process as a patient and not as an occupational therapist.
I help my brain to recover and refresh itself.
My brain and I move forward at our own pace within our limits.
We will see where it will lead me!
Consider this research, "The Impact of Multiple Concussions on Emotional Distress, Post-Concussive Symptoms, and Neurocognitive Functioning in Active Duty United States Marines Independent of Combat Exposure or Emotional Distress" conducted by Spira et al. (2014) on the impact of concussions on sensory sensitivities 1. 
Being sensory-friendly is easier with our newsletter.
Get timely sensory-friendly tips and strategies by email to understand sensory challenges. Unsubscribe at any time.
Source
Spira, J. L., Lathan, C. E., Bleiberg, J., & Tsao, J. W. (2014). The Impact of Multiple Concussions on Emotional Distress, Post-Concussive Symptoms, and Neurocognitive Functioning in Active Duty United States Marines Independent of Combat Exposure or Emotional Distress. Journal of Neurotrauma, 31(22), 1823–1834. https://doi.org/10.1089/neu.2014.3363