Canadian singer-songwriter Christina Martin is leading the charge to adopt inclusive, sensory-friendly performances at her shows. Both in-person and online. In this blog post, she answered a series of questions about her journey to inclusion.
What has made inclusion and becoming sensory-friendly important to you as a musician?
In Real Life
The fact that some fans told me they could not get inside my event. This made it important to learn more about accessibility, inclusion, and sensory-friendly events.
At some of my shows, I feel there are still barriers for individuals. For example, we still perform at some concerts that have staircases. They also have age restrictions. Some don't have accessible washrooms. My approach now is to talk to the venue about what their accessibility plan is for the future. Furthermore, I also consider accessible venues when we return in the future to perform at public events.
Sometimes there are no low-cost ways to make events sensory-friendly performances. I was performing at a venue in Amherst, Nova Scotia called Trider's Craft Beer. Trider's had a lip at the entrance of the venue which made it difficult for someone using mobility devices to access an event. However, Trider's was extremely open to working with StopGap Foundation to bring a portable accessible ramp in time for our event.
If my intention is to connect with more people with my music, it makes sense to try to make shows more inviting, welcoming, comfortable, and safe for all. I'm still working on it. I try to encourage my fans to reach out before the shows if they have any questions. Finally, I think it's important to let your audience know in advance what to expect. This applies both to online and in-person events. The details are important. That way they can make up their mind if it's a comfortable atmosphere for them to attend.
Online
I have some fans who support me online. But they live with intense anxiety and crowds don't feel like a safe place for them. This made me see the importance of embracing the online community.
It made me start to do Facebook Live events and to create new online content for fans to enjoy from the comfort of their own homes. I started that even before Coronavirus.
Arts and culture are at the forefront of creating sensory-friendly virtual events; even The Andy Warhol Museum has them!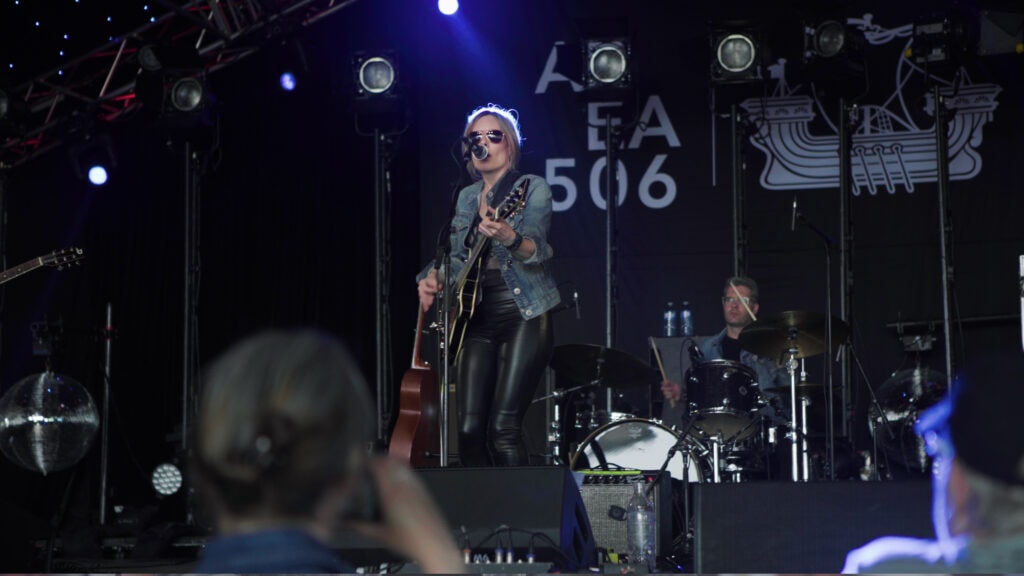 As you learn about inclusion, becoming sensory-friendly in your shows, what has surprised you the most?
I was surprised at the number of great resources available to musicians online.
This was a great first step to learning more about hosting more inclusive events. A resource I like is attitude is everything.
I continue to be pleasantly surprised at how open venues are to want to make positive changes to their events. Also, if you ask people for feedback on ways to improve events, they are very generous with suggestions. Most healthy humans and businesses want to grow and make public events more safe and successful.
What has been the easiest thing to do/action to become more inclusive and offer sensory-friendly performances?
-Asking fans for feedback is easy. They will tell you what helps!
-Asking venues about their inclusivity and sensory-friendly strategy is easy.
-Posting more information about the kind of event you are hosting is easy.
Start time and end time.
Any sensory-friendly performance information.
Contact information if people have questions.

What do you think has to happen for other musicians to adopt sensory-friendly performances?
I think almost all musicians would want to adopt sensory-friendly performances. The biggest barriers to incorporating more sensory-friendly practices are education, perceived financial barriers or limited resources. However, there is a lot that can be done for free, by educating yourself and/or consulting with experts.
What is the biggest barrier you encounter in becoming inclusive at performances as a musician?
Sometimes we perform events that are not all-inclusive. I feel financial pressure to tour as much as possible and to tour in many different types of venues. For example, some venues have age restrictions. Some concert venues are still not accessible for individuals with mobility or sensory issues. Some venues struggle with the financial barrier to make their venues more inclusive. I would like to try doing more events that are all-inclusive in the future. That means I have a lot to learn because there are so many music-loving people who have very specific needs.
For more information on the impact of sensory-friendly performances, check out a research review of caregivers' preceptors of sensory-friendly theatres. Support Christina Martin and get access to exclusive content on Patreon.
Watch her in our mini-documentary, "Too Busy. Too Noisy. Too Bright." And, read more in Ways to Make Online Shows Inclusive, Accessible, and Sensory-Friendly.
Being sensory-friendly is easier with our newsletter.
Get timely sensory-friendly tips and strategies by email to understand sensory challenges. Unsubscribe at any time.
Christel Seeberger worked in healthcare for more than 25 years helping people with sensory sensitivity who experience sensory overload.  Christel has sensory sensitivity and experiences sensory overload herself; she has hearing loss and wears hearing aids.  She founded Sensory Friendly Solutions in 2016 to help people, businesses and organizations discover sensory-friendly solutions for daily life.