A Christmas Parade is what I like to call a sensory-rich experience. That's a term I've coined to help explain the opposite of sensory-friendly. Did you know that if you add a quiet zone to your Santa Claus Parade, you will attract many more people to your parade? Parades are known for loud music, bright, flashing lights, notwithstanding the extra hustle and bustle that accompanies Santa.
But for many children; including children with anxiety, autism, fetal alcohol spectrum disorder, learning disability, sensory processing disorder, and experience seizures many other disabilities, the excitement of seeing Santa Claus plus the added noise, lights and crowds is just too much. In fact, for many children, without an underlying disability, Santa Claus Parades can be simple be: meltdown madness. Ultimately, this causes many parents and families to avoid these events. There is nothing worse than being stuck in a crowd with a screaming, crying, inconsolable child. However, it is easy to add a quiet zone to your parade route and in doing so, you offer a sensory-friendly experience for all children and families to enjoy. Help create magical memories at Christmas time for children to enjoy in a few simple steps.
How to offer a sensory friendly Santa Claus Parade
I took the photo below at my local Santa Claus Parade. They've been offering a quiet zone for several years now.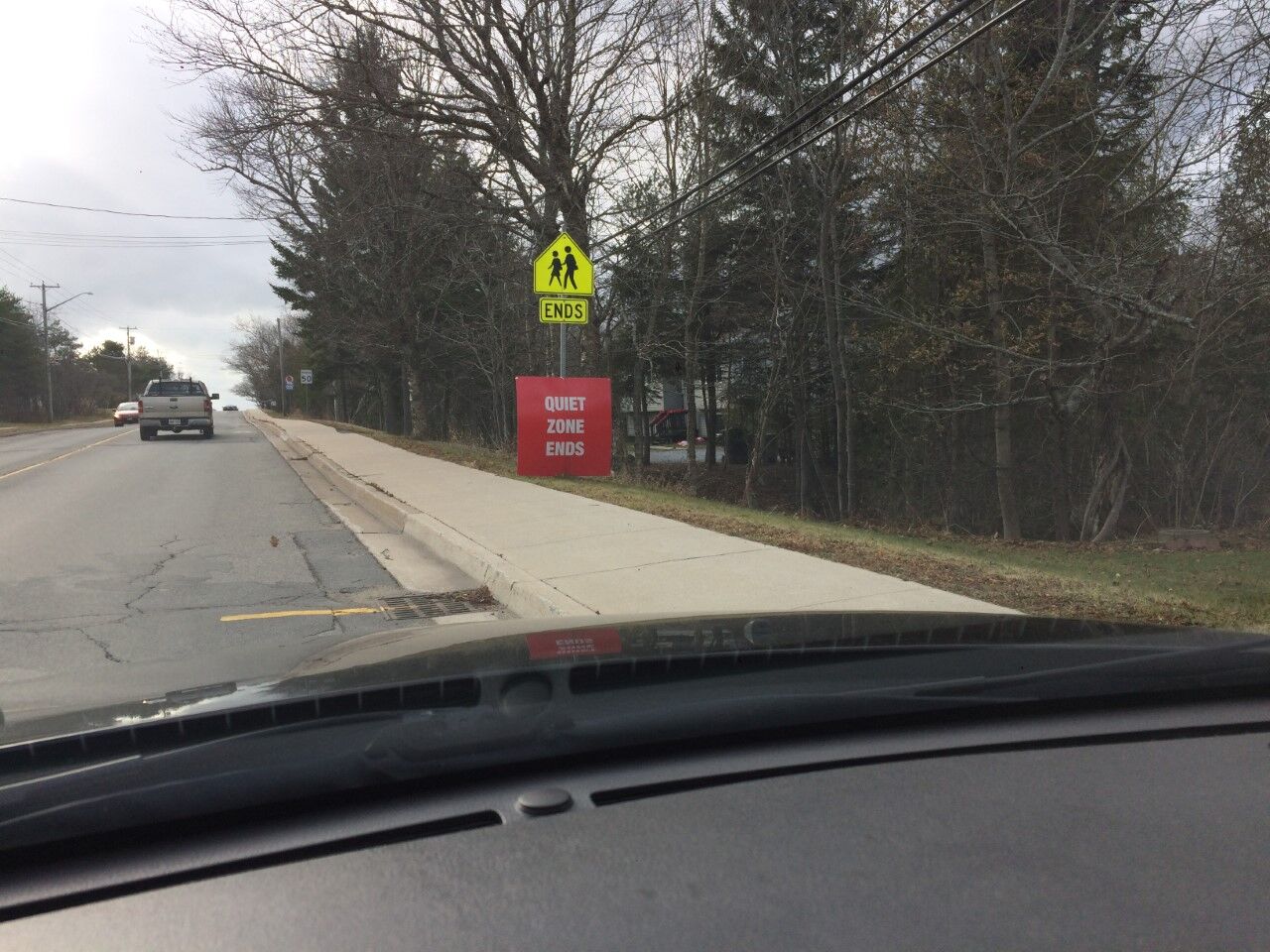 To help you make your Christmas Parade sensory-friendly follow check-list that takes you through all the steps. Get the Sensory-Friendly Santa Claus Parade Checklist below.
It contains helpful hints like:
What to write on the signs (hint: it isn't just quiet zone like on the picture)
All the specific directions you need to give to participants/floats. Including alerts such as no sirens, turn off strobe lights, and so on.
Ideas on how to share the message about your inclusive event.
You can learn more about autism, anxiety and sensory overload to understand why introducing sensory-friendly to your parade is especially important for children with autism.
Find more help to make Easter and Halloween sensory-friendly.
3 things to help your child enjoy a Christmas Parade
Here are three things you can do to help your child enjoy a Santa Claus Parade whether it has a quiet zone, sensory-friendly zone, or is sensory-rich throughout.
Practice through play. Children really do learn best via play. Introduce the idea and/or help your child conduct a present Santa Claus Parade with their toys. You can then talk to them about what to expect. You can also then help plan with them what to do if it becomes overwhelming. Communicate with your child to help prepare them for what could come. Help them understand and envision what is going to be different that day. Start by talking about what your child might expect and if possible, get your child's feedback ahead of time on what your child may feel.
Ensure your child isn't hungry, tired, thirsty, or has to go to the bathroom during your time at the parade. A tall order, I know! But planning ahead and taking care of these basics really do help your child manage sensory overload. That 4-point check-up should be a requisite before going on any outing! Schedule a bathroom break, ensure a good night's rest and/or quiet time before the parade and bring snacks and a drink.
Get helpful hints from Parenting Coach Alison Smith: Setting Limits with Empathy and Respect. Christmas time is very expected to be a sensory-rich holiday. Sometimes being sensory-friendly simply means setting internal limits when the external environment is busy, noisy, and bright.
Bonus! Parents find resources about a sensory-friendly Easter and help for your Easter egg hunt. Read more tips about Halloween too.
Sensory Friendly Santa Claus Parade Guide
Did you know that adding a quiet zone to your Santa Claus Parade will help children and adults alike enjoy the experience?  In a few easy steps you can make your parade sensory-friendly.
Changes floats can make
What to tell people
How to prepare
What a quiet zone means