You make think a sensory-friendly dentist is just for adults with autism or autistic children. However, many more people seek out dentists who manage the sensory-rich experience of dental care. Although pediatric dentists and dentists for autistic adults and children should offer a sensory-friendly dental appointment too.
Peggy Bown Dentistry: a sensory-friendly dentist, an autism-friendly dentist, and a patient-friendly dental practice
Please note the images were taken and submitted before COVID-19.
Peggy Bown Dentistry is a premier example of a sensory-friendly dental practice. Dr. Bown is the first sensory-friendly dentist in Saint John, New Brunswick, Canada. With a large staff and clinic, they take special care throughout to focus on patient experience and do so in all aspects of dental care throughout their space. Dr. Bown is my dentist. She even met with me while she was designing her dental clinic. We talked through many facets to make the building and the patient experience accessible and enjoyable. She brought in a multitude of experts to design the space continues to research and implement best practices.

In this blog post, learn what to expect from a sensory-friendly dentist as a patient. Furthermore, get information as dentists to become sensory-friendly.
Sensory-friendly dentists: adjust for the eight senses
Small changes to the sensory-experience for the eight senses in dental care will also support autism-friendly dental practices. It isn't just children with autism who struggle with dental care. Dentists for adults with autism are needed too. Furthermore, a sensory-friendly dentist will help people with special needs, people who simply have sensory sensitivity and people of all ages who experience sensory overload.
See
As a sensory-friendly dentist, Dr. Bown provides special tinted glasses for patients to wear. They also have special light covers on overhead fixtures. The lighting throughout the office is adjustable and they take full advantage of daylight too.
They have taken special care to achieve the right balance of something engaging to look at and not too much visual distraction. Ceiling mounted screens are available for patients to watch and walls have interesting artwork.
Hear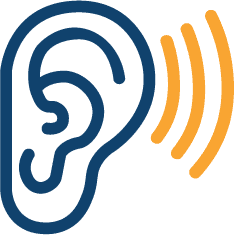 Peggy Bown Dentistry has noise-cancelling headphones that patients can wear while in the chair to listen to music. They also offer earmuffs to block out sound. The rooms are also designed with sliding doors to dampen sound between treatment rooms.
Taste
The dental clinic has warm, filtered water for its patients during treatment. How thoughtful is that? And a choice of flavours for treatments too.
Touch
Even though the clinic uses modern dental practices with avant-garde tools and equipment to make dental care quick, painless and the least invasive possible. There are little details that also speak to their attention to the tactile sense. For example, in the waiting area, they have different types of seating including individual armchairs, beanbag chairs for children and bench seating options too.
Moreover, they offer weighted blankets that have a calming effect. Additionally, at the end of each treatment, you can have a warm, damp cloth for your face and hands.
Smell
Dr. Bown has a special air purifier installed. She also offers individual calming scents for patients during treatment. Purified, filtered air is helpful for people who like scent-free. Essential oils can also be calming for people who like scents.
Movement
Bown Dentistry Clinic has full adjustable patient chairs for optimal comfort. They offer knee pillows or leg elevation pillows to reduce back strain too. The team also pays close attention to its ergonomics. Dental staff can easily sustain awkward postures and have repeated movements in proffering dental care. Healthy staff provides better health care to patients!
Balance
Dr. Bown chose to create her clinic in a flat building that is wheelchair accessible. I love the little stool they provide at the entrance where outdoor boots and shoes are removed. In addition, their long-handled shoehorn is a must at any entrance! The patient chairs/lounges are height adjustable, making it easy for patients to get up and down from them.
Interoception
Interoception is your internal body sense. It tells you when you are hungry, thirsty or have to go to the toilet. The clinic has filtered water to drink for patients too! There is a patient toilet near the front of the clinic, that is wheelchair accessible.
As a sensory-friendly dentist, Dr. Bown has also created a warm, inviting multi-purpose room for her team. Moreover, all aspects of the comfort of her team are just as important as the patient care they provide. I hope this example of a sensory-friendly dental practice, Dr. Peggy Bown Dentistry, illustrates a dentist for adults with autism and dentists for anyone who wants or needs a sensory-wonderful experience.
For more information, check out Dental Health Guidelines for parents and caregivers of children with autism.
Sign up for the Sensory Friendly Solutions Newsletter.
Feel empowered to make sensory-friendly changes and understand the spectrum of different sensory experiences.
Unsubscribe at any time.
Christel Seeberger has worked in health care for 30 years, including helping people with sensory sensitivity who experience sensory overload. Christel has a hearing disability and experiences sensory sensitivity and sensory overload herself. She founded Sensory Friendly Solutions in 2016 to make the world more sensory-friendly, accessible and inclusive.