Do you want to make the world more sensory-friendly?
Join the mission.
Get trained.  
Offer less busy, less noisy and less bright.
Join Sensory Friendly Solutions on our mission to make the world more sensory-friendly by training a million people.
#JoinTheMission
#TrainAMillion
#LessBusyLessNoisyLessBright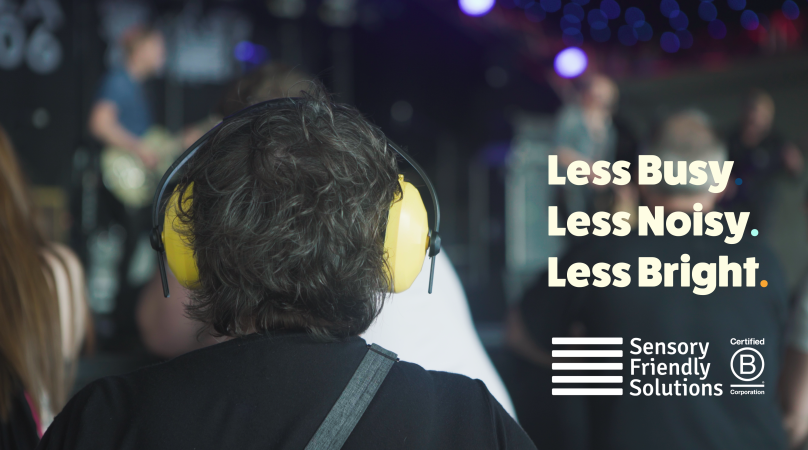 Get training that matches your learning needs, the needs of your industry, your customers, and your team. 
Want to learn how to easiliy make an event, location or experience sensory-friendly?
With our online, on demand, membership-based training you can:
Why Get Sensory-Friendly Trained? 
Because you recognize that being sensory-friendly is a key part of accessibility and inclusion, critical to DEI (Diversity, Equity and Inclusion).
Because you want to be a part of making the world more sensory-friendly for your customers, your team and well, for everyone #LessBusyLessNoisyLessBright.
Because you want to #JoinTheMission to #TrainAMillion to show that you want people to feel included and like they belong.
33% Of People Experience Sensory Differences.
Did you know that up to 33% of the population is more likely to experience sensory sensitivity or sensory overload? Children, adults and seniors alike often find events, locations and experiences too busy, too noisy and too bright.
They are your customers and clients. Your employees and team members. Your family and friends. Learn how to make your event, location or experience accessible and inclusive to 1/3 of the population with our membership-based training.

Sensory Sensitivity and Sensory Overload Can Be Experienced by Anyone, at Any Time.
FACT: Many underlying disabilities and simple sensory differences contribute to the increasing demand for sensory-friendly experiences at locations or events.
FACT: sensory sensitivity and sensory overload aren't just experienced by disabled persons. They can be experienced by anyone, of any age, at any time.
SOLUTION: Be part of the solution that makes your team and your customers feel like they belong ble when you become sensory-friendly trained.
Small Sensory Friendly Changes Have a Large Impact.
Training from Sensory Friendly Solutions

 Is Your Solution 
#JoinTheMission to make the world more sensory-friendly, #LessBusyLessNoisyLessBright, and the people, businesses and organizations who are already a part of #TrainAMillion, changing the world for the better.
Sensory Friendly Solutions is a Certified B Corp™.
B Corporation Certification is a designation that a business meets a high standard of verified performance, accountability, and transparency on factors such as supporting its workers, serving underrepresented populations in the community, sustaining the environment, and creating positive social impact for its customers.
Sign up for the Sensory Friendly Solutions Newsletter.
Feel empowered to make sensory-friendly changes and understand sensory sensitivity and sensory overload.
Unsubscribe at any time.